Горный отель Berggasthaus Aescher (Швейцария)
Cuisine
Back to the origin,
and hence into the future.
Our cuisine is local and honest. We go back to the roots, our local specialties and traditions and create culinary inventions from it. We like to work closely with local producers and want to do our part in obtaining the cultural heritage of the alps. Strongly connected to our heritage are ingredients, which have the reputation of being poor people's food and have fallen into oblivion. Some of these ingredients have celebrated a comeback, for example the Ribelmais (special type of ground maize) from the Rhine Valley with which we prepare our Bramata.
Experiencing culinary history.
The Aescher and the Wildkirchli with their caves are true treasure troves of fascinating history which we would like to share with you. With the Aescher Specials we have created food and drinks which turn this magical historical place into culinary delights.
History
Where hermits,
cavepeople and bears
once lived.
Our guesthouse upon the mountain has seen many a proud face after a steep ascent. The guesthouse in its present form has existed since 1860 and is one of the oldest mountain guesthouses in Switzerland.
In 1658, Priest Ulmann was the first hermit to live in the hermitage in the Wildkirchli.
Ever since, the place holds a fascination which has lasted through generations. Storys are told about small wild people which apparently used to live in in the Wildkirchcaves and helped the alpine dairy men. The Aescher has been a source of inspiration for poets and artists for centuries. Findings of stone tools and bones from cave bears show that the caves have been used as an ancient living space.
Events
Spectacular all around food & drink
Full of enthusiasm, we as a young company took on the «Aescher» challenge at the beginning of 2019. In spring 2020, our small building project was realised and we were able to open our Aescher shop and brand new toilets. We will start the new season 2021 with a lot of new energy and even more small events, such as individual concerts, 1st August brunch, etc.
Sleep
Accommodation
Aescher guestroom
After a long time, we are once again making it possible to spend the night at the Aescher. Spend the night alone or with your whole family or friends at the Aescher and experience the simplicity like back in the days. In the morning you'll be served a delicious breakfast, which you can enjoy on the terrace with a delightful panorama in fine weather!
Four-bed Room in the Aescher with duvet: CHF 115.
Group room (6-15 persons) in the Aescher with own sleeping bag: price on request, varies according to group size!
All prices are per person and night, incl. breakfast, excl. visitor's tax!
Good to know.
We are located at 1454 m above sea level. It can get cold even in summer, as soon as the sun has gone! It's best to bring something warm and cosy for the evening and night, as the house is not heated!
In the group room you will sleep in your own sleeping bag! We prepare the beds for you with pillows, sheets and woollen blankets.
Water is a precious commodity on the Aescher, because we don't get it from a «normal» water pipe, but from our own reservoir in the Wildkirchli cave, which is fed by rainwater. That's why we are happy if you take a bath in the Seealpsee instead of a shower — that's much more fun!
If we are already fully booked – we warmly recommend the hospitality of the Weissbad Lodge – our friends will welcome you!
Hotel Review: Berggasthaus Aescher (Aescher Guesthouse)
Update 4/1/17: The Aescher Guesthouse is no longer accepting overnight visitors, but you can still enjoy a meal after your hike (or tram ride).
The remote Berggasthaus Aescher – Wildkirchli mountain guesthouse located in Switzerland is a must visit. Yes, this is one of the often touted "50 places you must visit before you die" that you have probably seen floating around the internet. I won't lie the first time I saw it I knew I had to get there. The best part is lodging is only $45 a night! It's a Thrifty Traveler must stay destination!
I found where the hotel was located easily enough, but actually booking a night at the hotel and figuring out how to get there was more of a challenge. The hotel and restaurant is accessible only by cable car followed by a 20 minute downhill hike that includes a cave passage through the mountain! The Berggasthaus Aescher-Wildkirchli is located in the Appenzeller Alps and treats you to incredible views of the valley and surrounding mountains.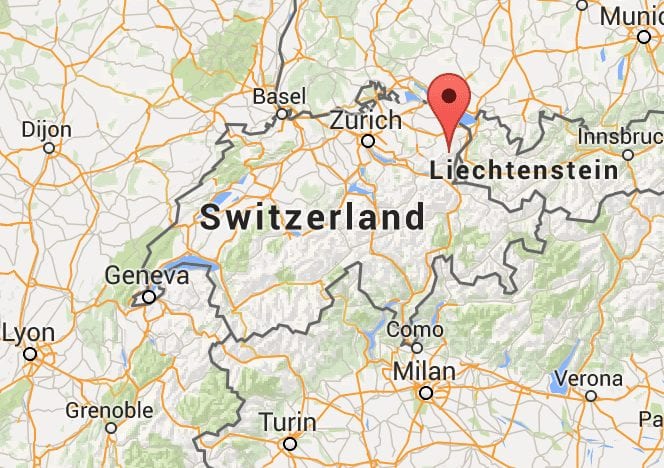 Located in Switzerland very close to the Austrian and German border
The Ebenalp cable car is located near Wasserauen, Switzerland. We drove to the cable car but it is also accessible by train as there is a train stop across the street from the cable car. Train routing from Zurich clocked the trip in at around 2.5 hours and $40 one-way. Use the Google Maps public transit function to find the best train routing and purchase online through SBB (Swiss Rail).
Thrifty Tip #1: If you don't have a car take the train to the Wasserauen train stop right across the street from the Ebenalp cable car.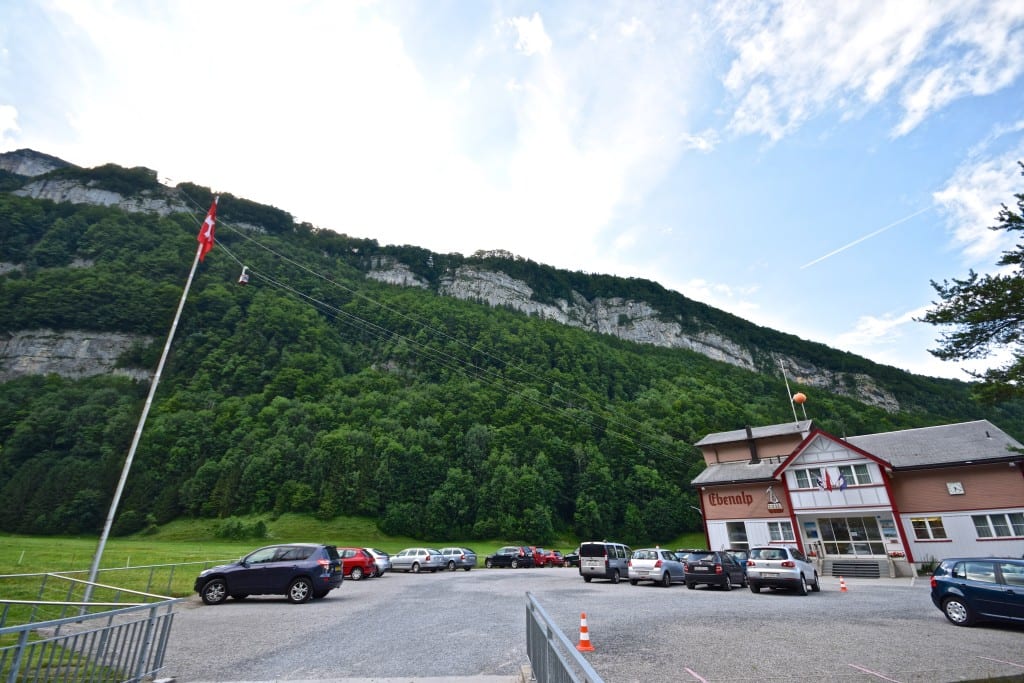 Cable car parking lot @ Wasserauen
If you are driving, simply enter Wasserauen, Switzerland into your GPS and it will lead you right to the Ebenalp cable car. Park near the cable car or in the parking lot across the street. There is no cost to leave your car overnight. The cable car leaves every 15 minutes and costs 29 Swiss Francs or about $30 round-trip. Alternatively, you can hike up the mountain, which many locals did, from Seealpsee to the Äscher. I was already getting grumpy since it was past dinner time so we gladly paid the $30 (each) for the cable car.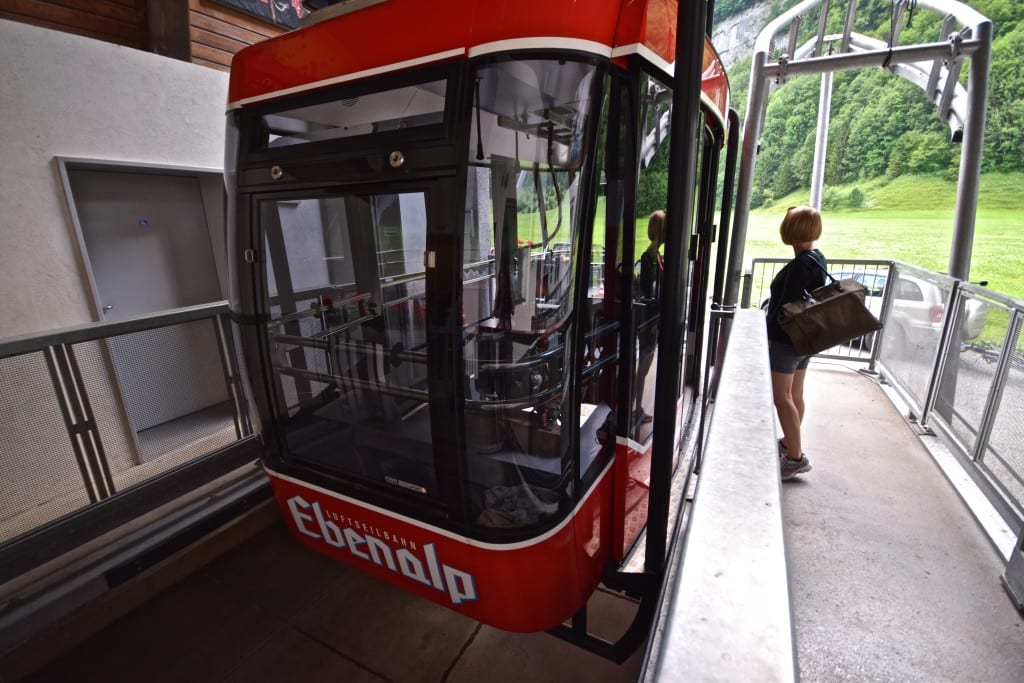 Mrs. TT boarding the cable car
It takes about 15 minutes to get to the top and you're treated with beautiful vistas in all directions. Switzerland has very nice roads, trains, and this cable car was no exception. It couldn't have been more than a couple of years old.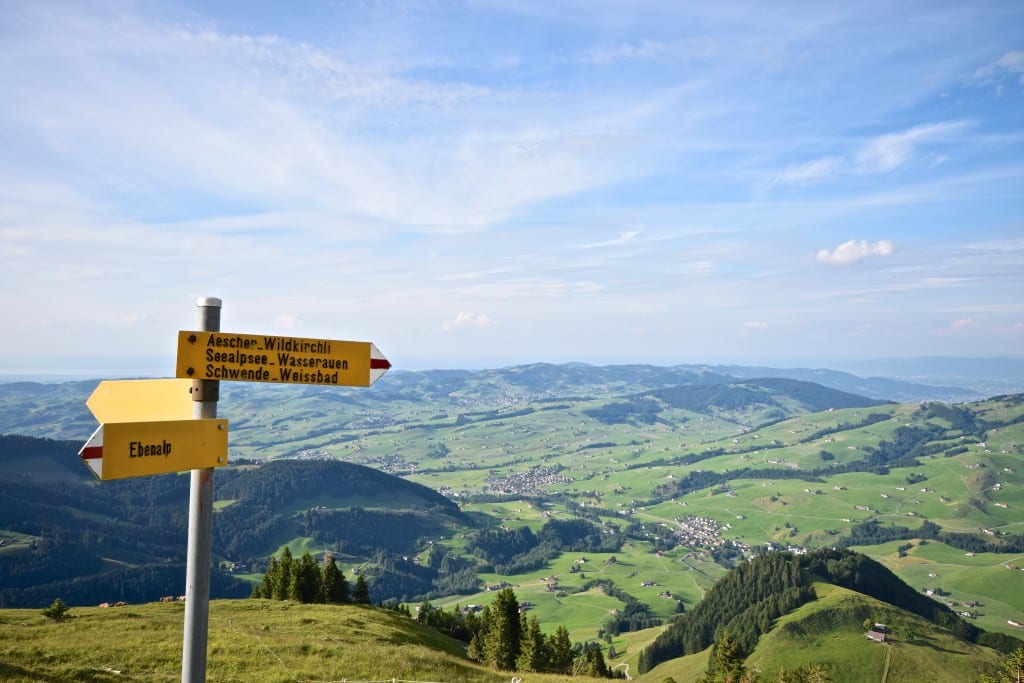 Follow the signs, ok there are really only one or two signs. Just follow the only path.
After the short ride to the top, you begin your easy 20-minute "hike" down and around the mountain to the Berggasthaus Aescher. Just take a right out of the cable car building and start heading down the hill following the signs for Aescher Wildkirchli. You honestly can't get lost.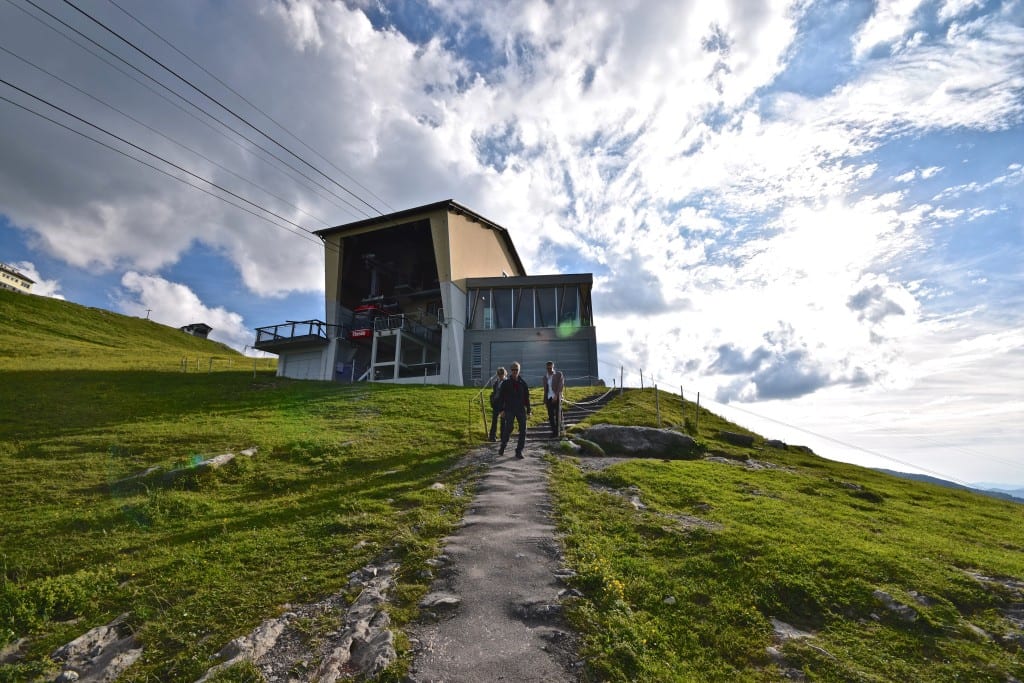 Cable Car Top
Alternatively, you can take a trail up to the top of the mountain Ebenalp. Since it was nearing dinner time we didn't mess around and headed straight for the Berggasthaus Aescher.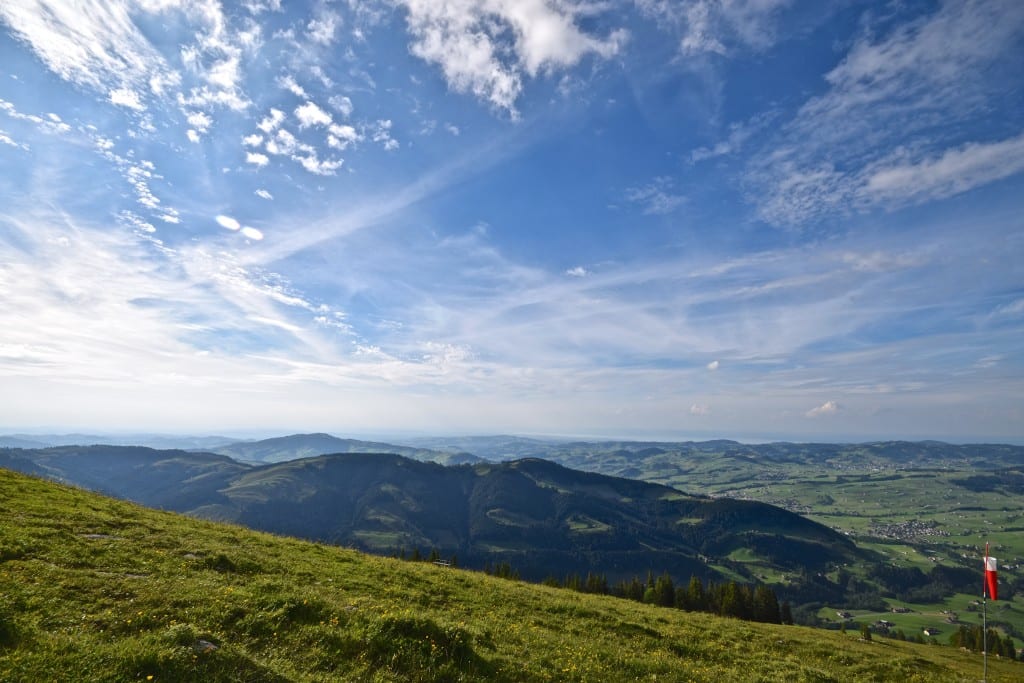 Beginning the walk down (Lake Constance in the background)
There are incredible views to the north and east including Lake Constance to the north looking towards Germany and Austria. The area appeared popular for paragliders as there were quite a few riding the thermals nearby.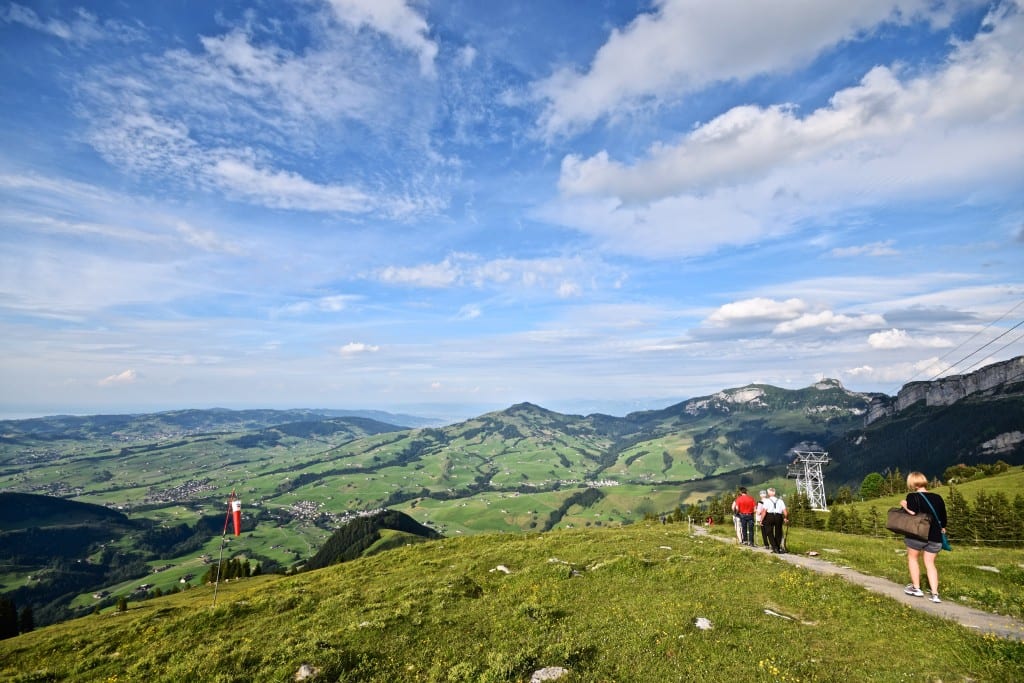 Mrs. TT crushing the walk down the mountain
One of the things I loved while driving through Switzerland was how beautifully maintained everything was. Even in rural areas the houses up in the hills are beautiful. The Swiss take a lot of pride in their property and infrastructure. Switzerland is frequently named one of the top countries in the world for the highest standard of living.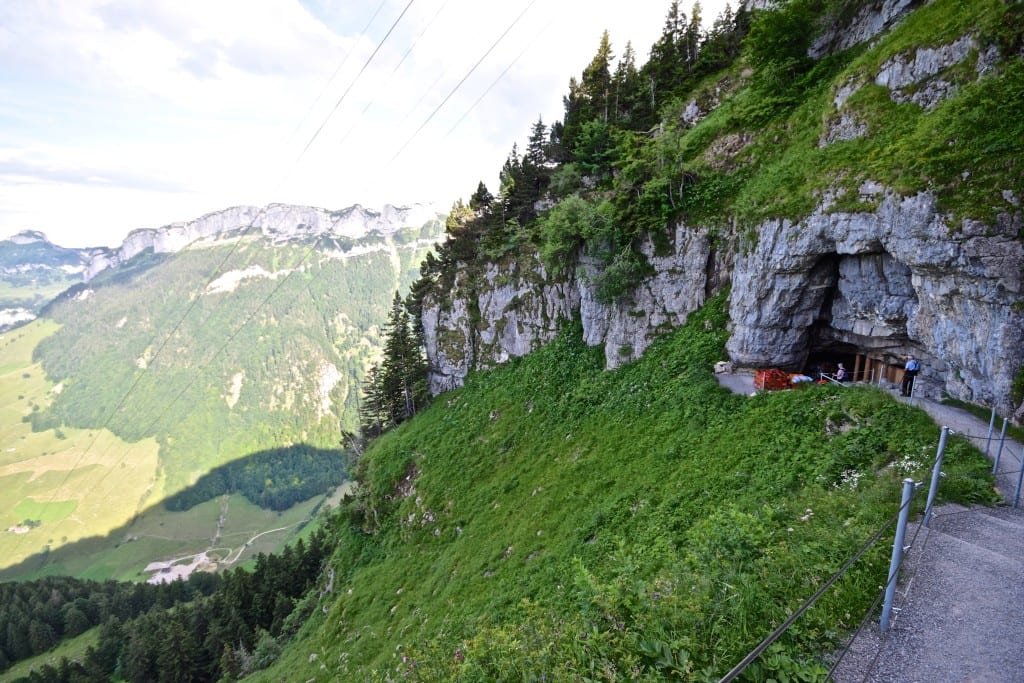 Walk to the cave entrance
After about 10 minutes you get to the trail that leads along the side of the mountain. You actually have to go through cave that cuts straight through the mountain. Awesome right?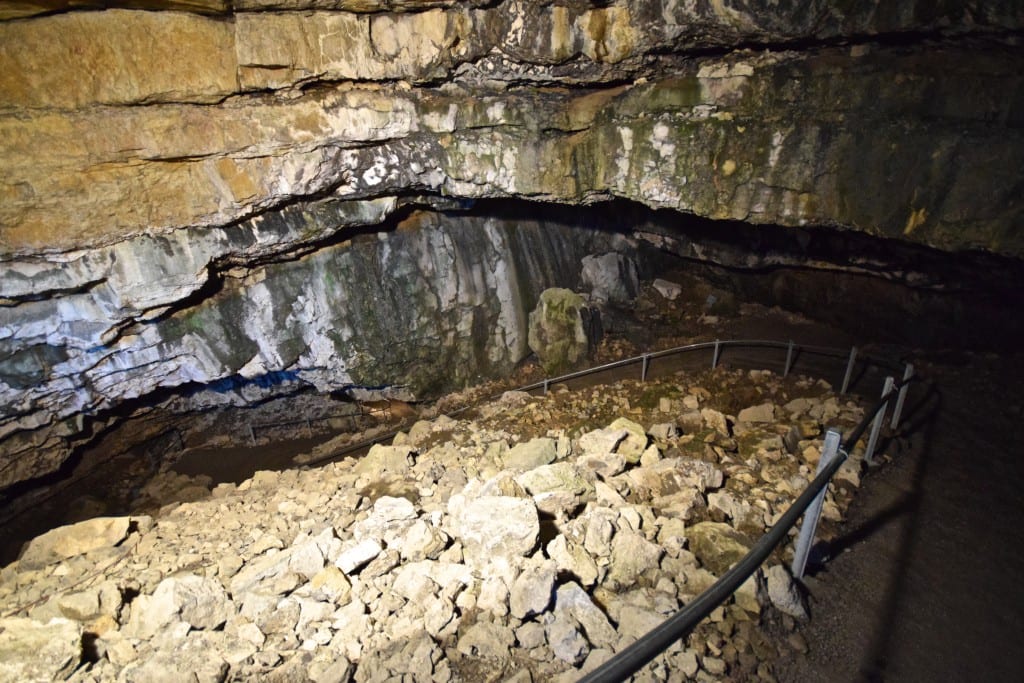 Cave through the mountain
The cave through the mountain is a great feature but it can get a little muddy, so watch your step. It is well lit so don't worry about a flashlight.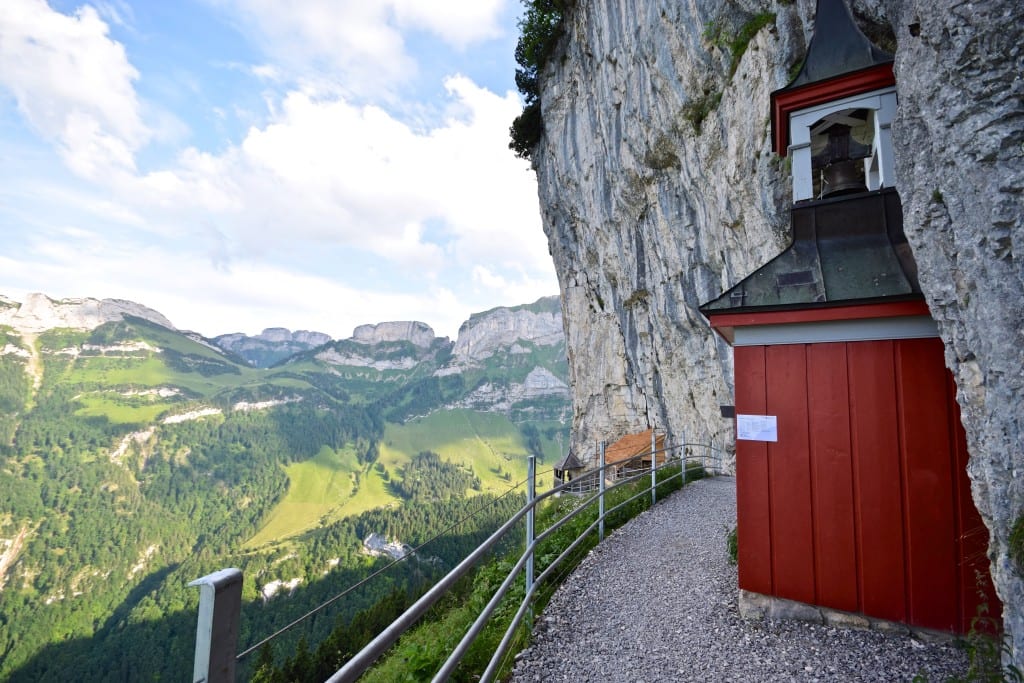 Church built into the side of the mountain
Just outside of the cave is a church carved into the side of the mountain. They still hold periodic church services.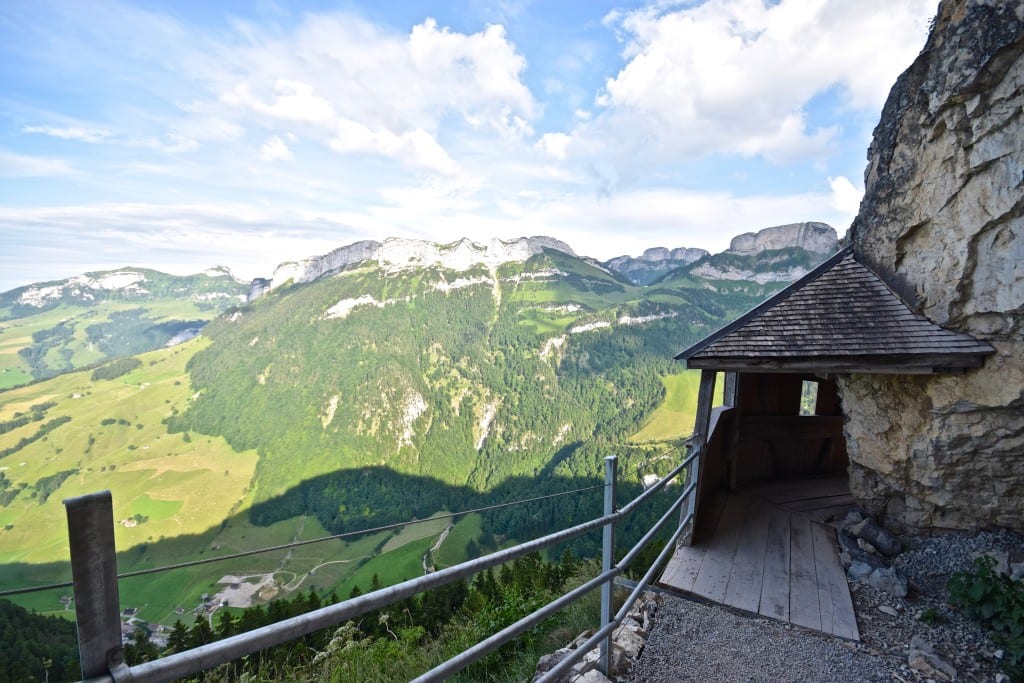 Last bridge before you get to Berggasthaus Aescher
As you continue winding your way down the side of the mountain you get to the last bridge before the Berggasthaus Aescher. If you're afraid of heights, you're not going to be a fan as you can see right through the wood planks to the valley floor.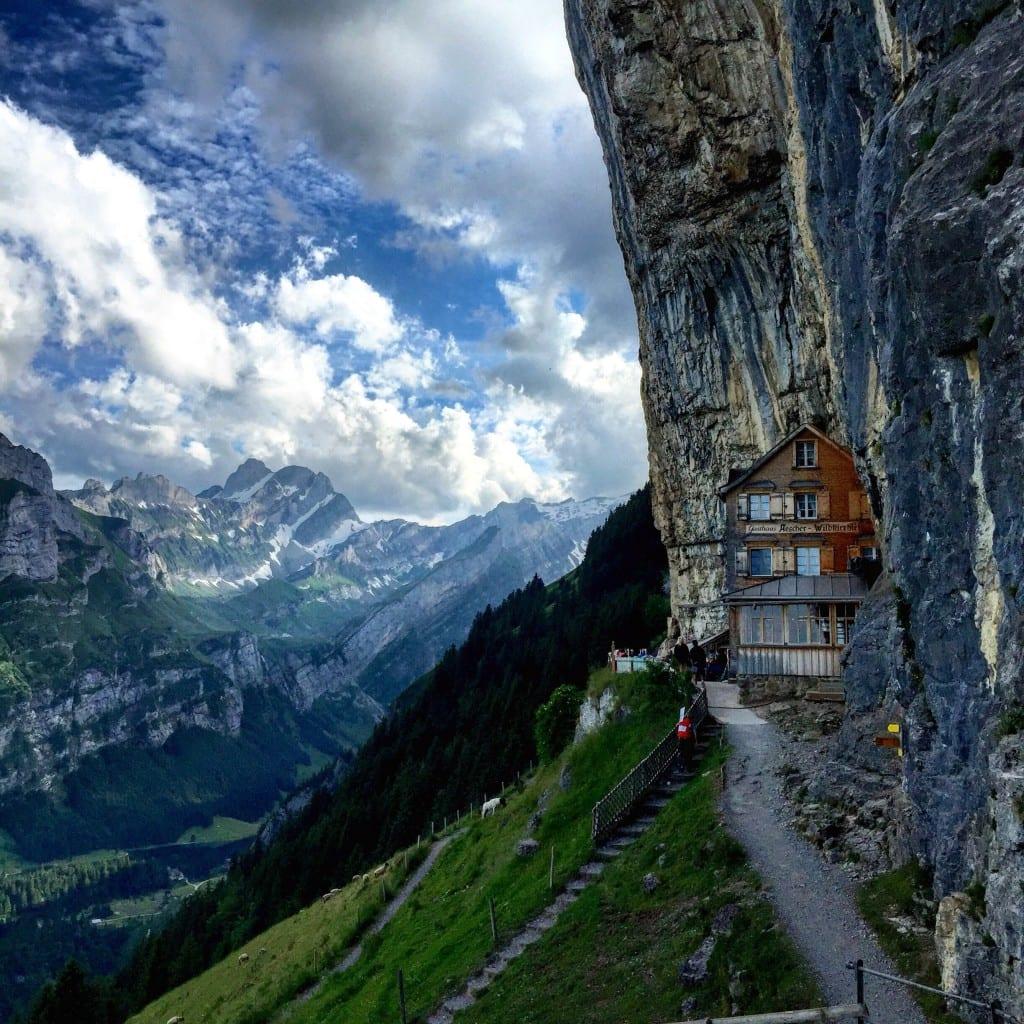 Berggasthaus Aescher mountain guesthouse
You're in for an amazing view right after you cross the bridge. The hotel and restaurant were built in 1805 and it is literally built into the side of the mountain.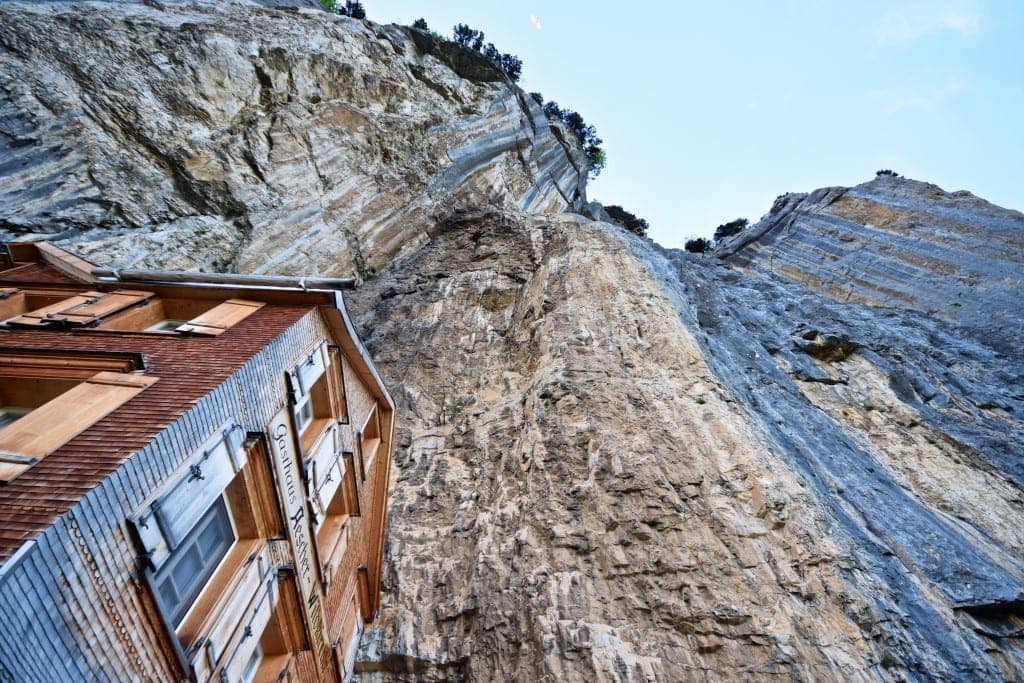 The cliff over the Berggasthaus Aescher
The Berggasthaus Aescher is built right into the cliff wall. In fact, the walls in many rooms are the mountain wall and they tend to leak a little bit due to water running down the side.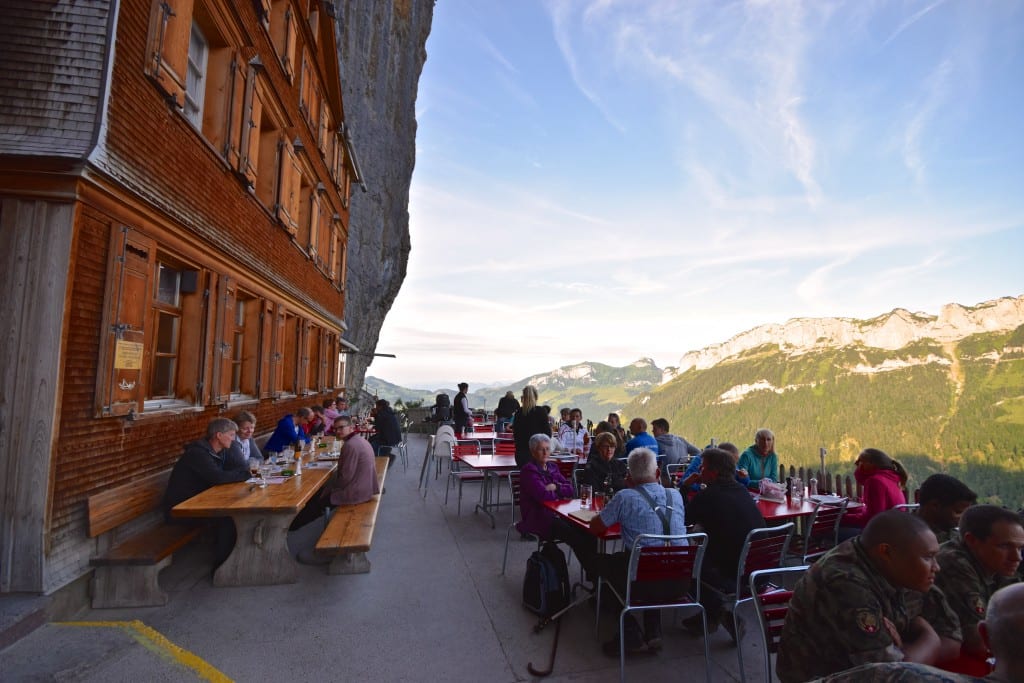 Restaurant Terrace
If the weather is nice you can eat outside and enjoy the amazing views. The restaurant serves food and drinks until around 9 or 10 pm. Most of the patrons were locals and left shortly before the last lift went down. You definitely don't have to stay at the guesthouse to eat at the restaurant so you could turn it into a stopover to eat, but of course, I would recommend staying overnight for the experience.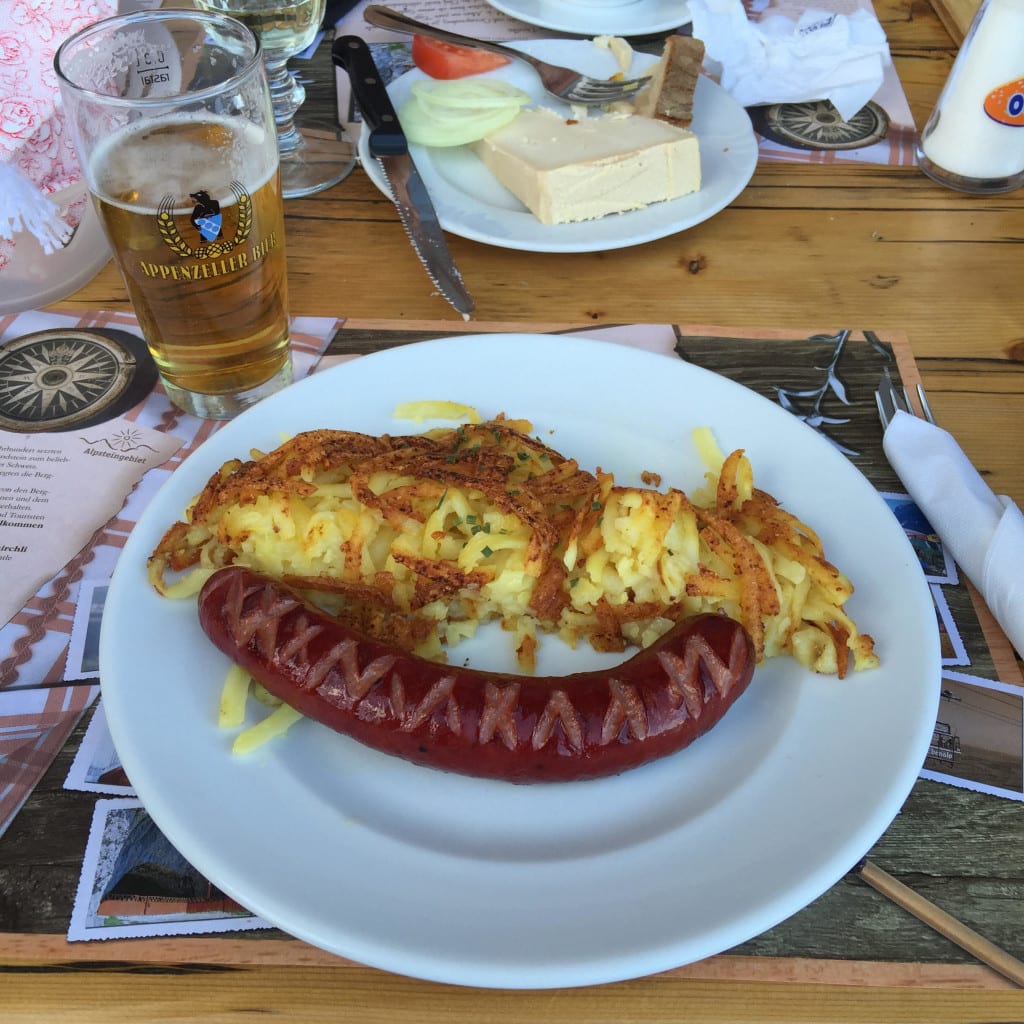 Rösti and Sausage
Rösti is the most popular traditional dish in Switzerland. It's basically just fancy hashbrowns but don't tell the Swiss that. Then they throw in a huge sausage and usually a local brew. Who am I kidding I'm a fan.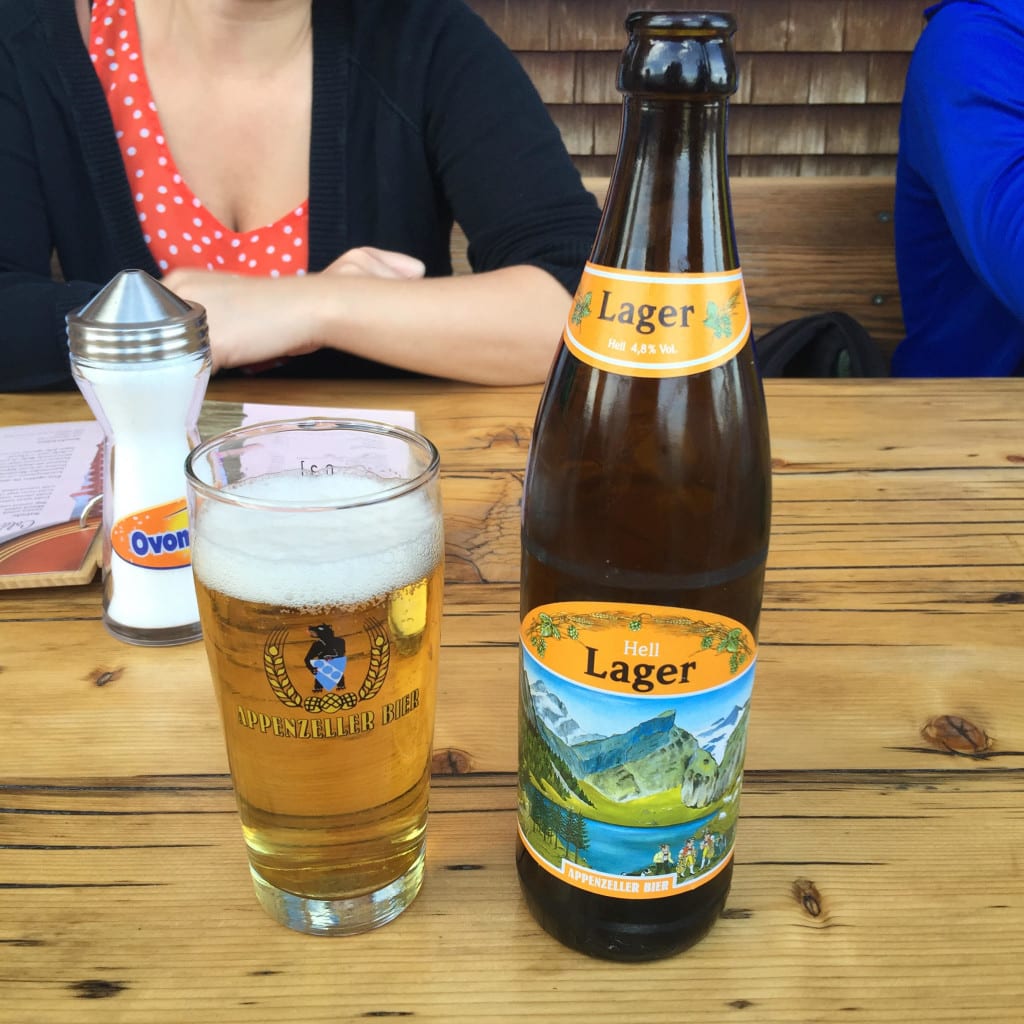 Appenzeller Hell Lager Bier (Local Brew)
Food in Switzerland is very expensive compared to neighboring countries so expect to pay a lot more than you're used to. In fact, everything but beer and water is pricey. I can't really explain why beer and water is cheap, but I appreciated it.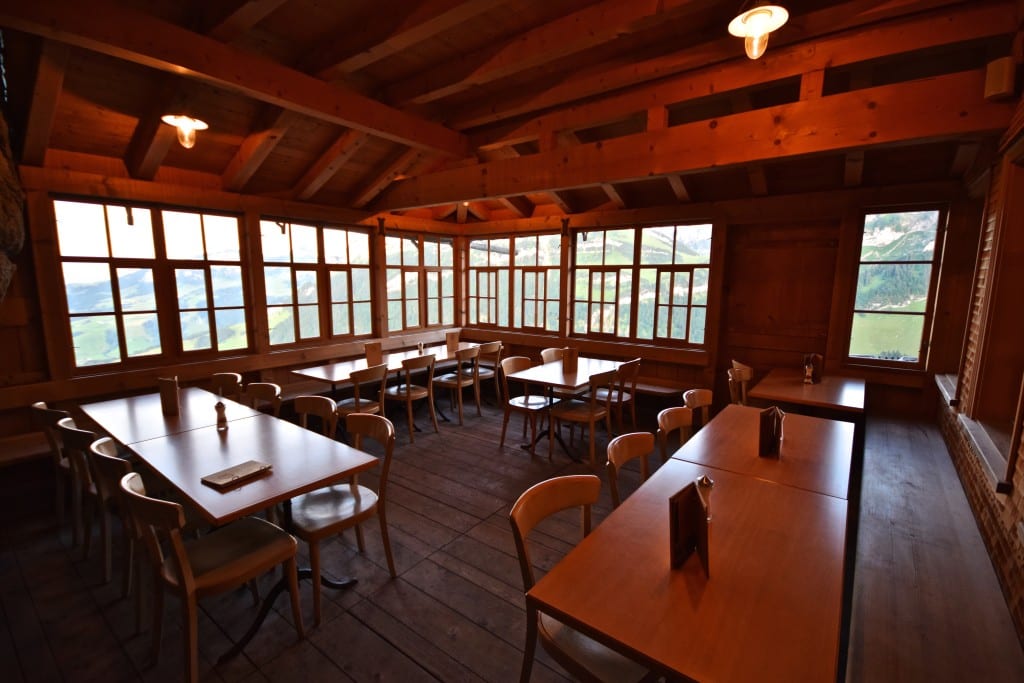 Inside Seating
Alternatively, you can eat inside. We ended up moving inside as it got later and cooler out. There isn't much to do on the mountain after dark so we enjoyed some beverages and played cards until around 10 pm. There is no Wi-Fi and very limited 3G service, which actually was nice for a change. After dinner, we also hiked around the guest house. There are trails in multiple directions which offered great views. There is also a small barn behind the guesthouse with pet rabbits and a donkey. Sheep also graze just outside of the guest house grounds.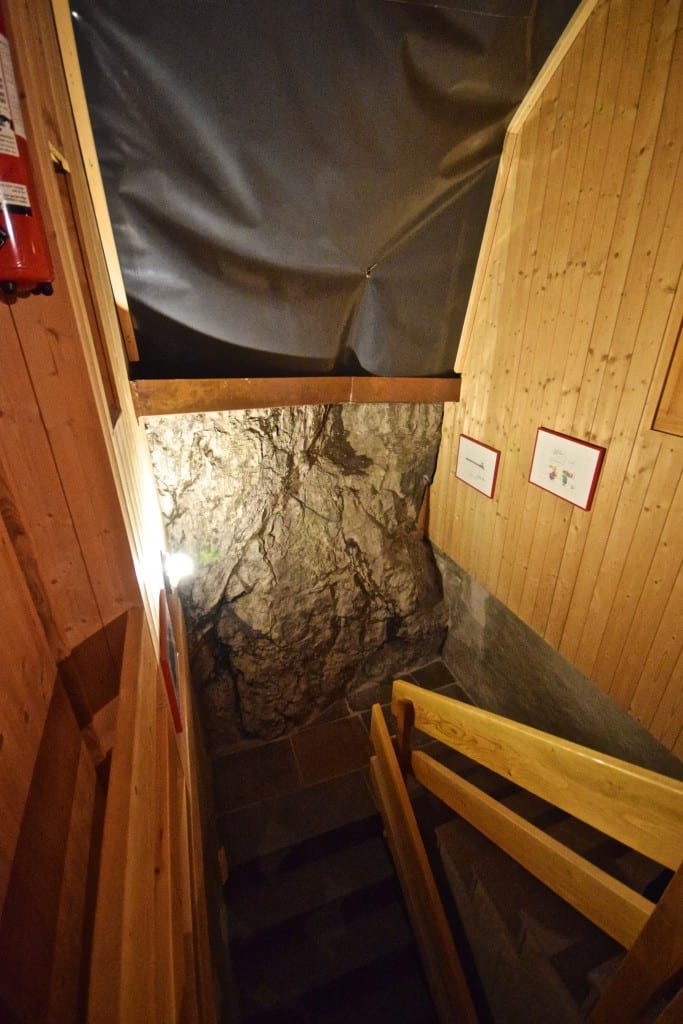 Rock wall inside the guesthouse
The reservations were easy to book by emailing the Berggasthaus Aescher, which can be found on their website. The guesthouse has space for up to 40 people and is split up into multiple rooms. We had a room made for three people but it was open towards the top of the wall into another room made for 10 people. You can email them telling them if you'd like your own room or arrange to have your party take a whole room if you have enough guests. Basically, you are just luxury camping as it's more like a dormitory or a hostel than a full-service hotel. If you are looking for amenities you've come to the wrong place. There are no showers, washrooms only! Bring your own towel, as well.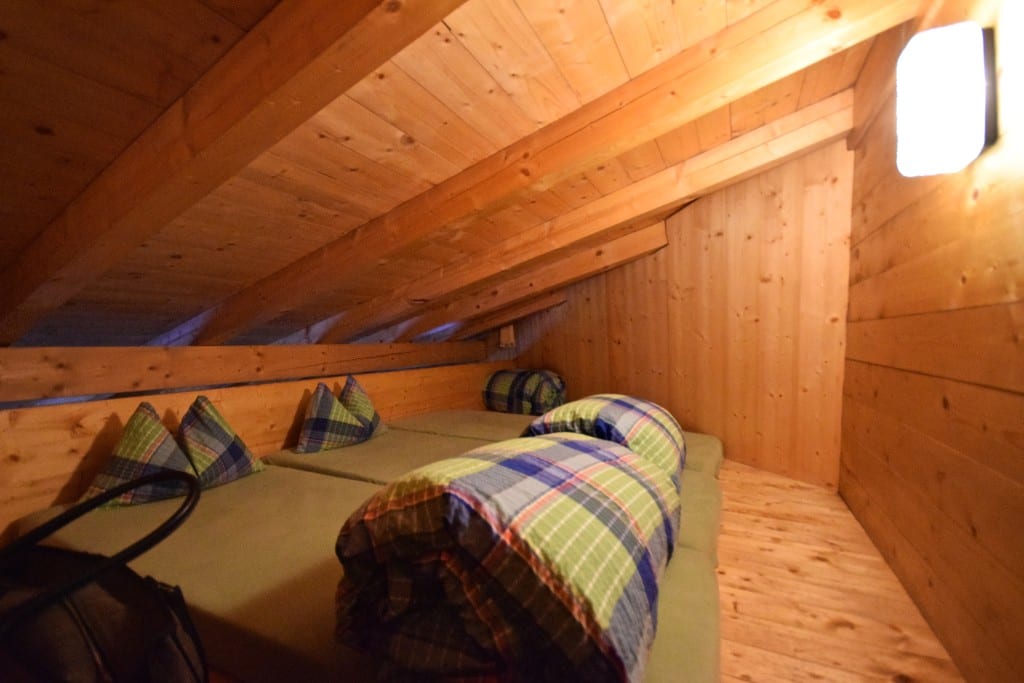 Our room for three, small but very clean
The whole guesthouse has been recently renovated and is very clean. Again, it only costs $45 a night! I was surprised that there were only about 10 other guests there the night we stayed. The guesthouse seems to get a lot of press so I expected it to be packed. Another thing I love about Switzerland is the cowbells (tied to the nearby sheep) that you hear all evening as you drift off to sleep. Some people might be annoyed by it but Mrs. TT and I love it. Very peaceful.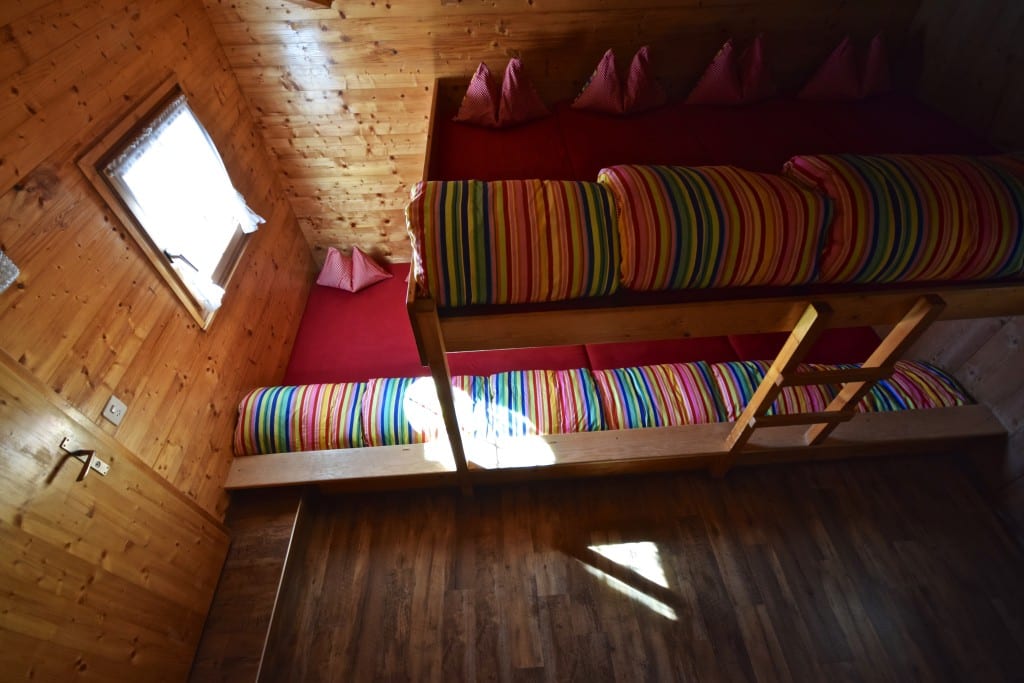 Dormitory
Lodging
Berggasthaus Aescher open Monday to Saturday
Open from May 1st – November 1st
No guests are allowed to stay on Sunday but the restaurant is open
Check-in: 5pm
Check out: 9:30 am
Cost: 45 Swiss Francs or around $45 (Cash or credit card for a fee)
Thrifty Tip #2: All mattresses come with down blankets. There is no shower! Washroom and toilet facilities are available. Bring your own slippers and towels.
Restaurant
Breakfast from 7 to 10:30 am
Lunch from 10:30 am to 4 pm
Dinner from 5 to 9 pm
Thrifty Tip #3: The hotel/restaurant accepts credit cards for a small fee.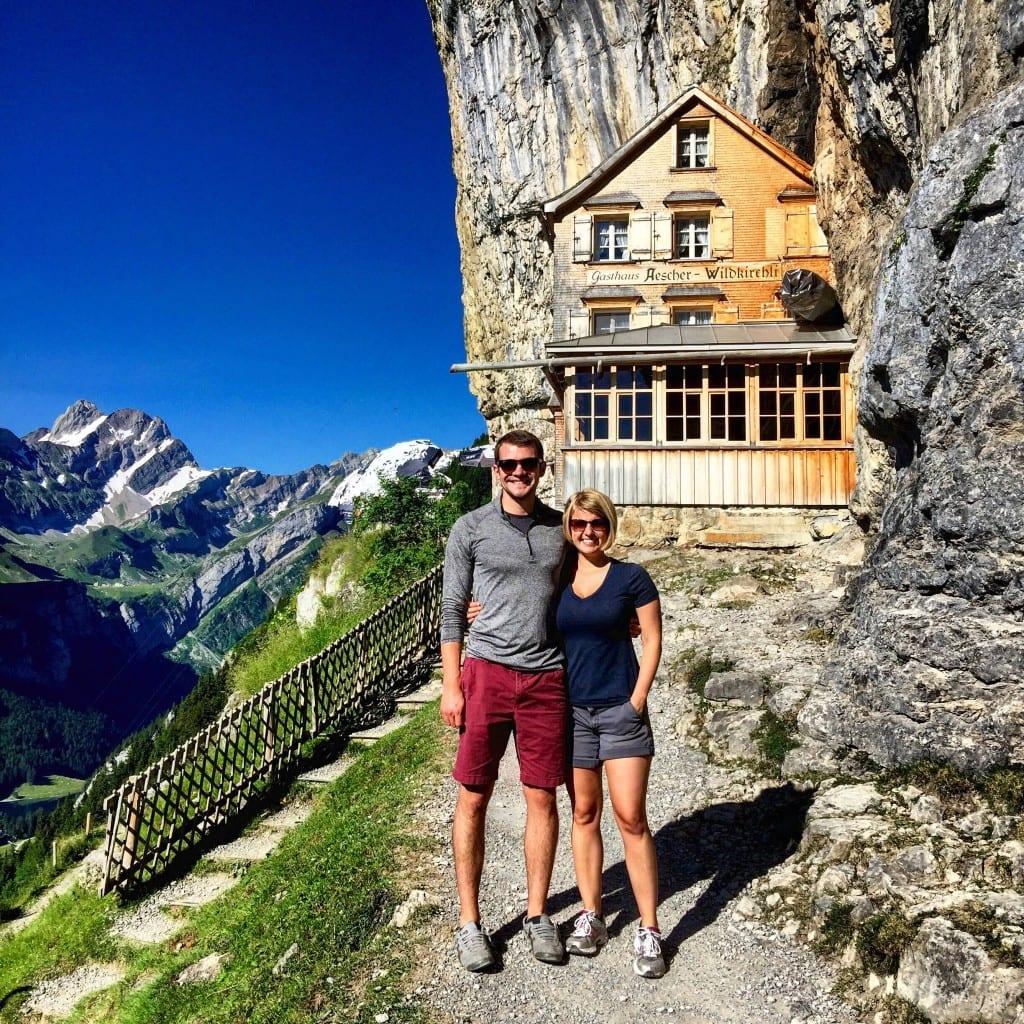 Mr. and Mrs. TT
Worth it?
You can't go wrong with staying at the Berggasthaus Aescher. It's a great value at $45 a night and it's an incredibly unique experience. It sure made for some great memories. If we're ever anywhere near the Berggasthaus Aescher, we'll be back to enjoy the fresh mountain air!
Never miss another hotel review! Like us on Facebook or follow us on Twitter and subscribe to our newsletter!
Check out our other hotel reviews:
Stop overpaying for travel!
Get our daily email for the latest in travel, flight deals, and how to save on your next trip.
Related stories:
Jared Kamrowski
Editorial Disclaimer: Opinions expressed here are the author's alone, not those of any bank, credit card issuer, airlines or hotel chain, and have not been reviewed, approved or otherwise endorsed by any of these entities.
Disclaimer: The responses below are not provided or commissioned by the bank advertiser. Responses have not been reviewed, approved or otherwise endorsed by the bank advertiser. It is not the bank advertiser's responsibility to ensure all posts and/or questions are answered.

EBENALP
Day 6 – 09.23.2015
We headed out early to Ebenalp — the northern most summit of the Appenzell alps. To be honest, I wasn't ready for a hike. I didn't know there will be hiking involved on this trip but it was such a pleasant surprise. My photos aren't doing any justice to the beauty of this place.
It was a gloomy day. Not a good day to hike, obviously, but we still went ahead.
It was already drizzling when we arrived at the cable car station. This cable car will take us to the summit where we can see the panoramic view of the hills of Appenzell. The ride was short but not short enough for Mr. A who is not very fond of heights — and swaying cable cars.
The view up there is amazing. I felt so zen. I would've stayed there but we had to move. We had to hike down to a series of caves called the Wildkirchli.
Hermit Hut renovated in 1972
The caves were inhabited by hermits from 1658 to 1853. The last hermit resident fell to his death on the mountain in the mid-1800s, and the hermitage remained vacant until it was renovated to a museum in 1972. – wikipedia
There's a "chapel" by the caves.
Berggasthaus Aescher-Wildkirchli
A little further down the trail you'll see Berggasthaus Aesher-Wildkirchli. Dubbed as one of the most interesting restaurants in the world, this 170-year-old guesthouse is located at the edge of the cliff.
My view inside looking out. I enjoyed every bit of my hot coco with this view. Now I have bragging rights that I once had hot chocolate in the 10 Mind-Blowing Hotels To Visit Before You Die. This is also featured as one of the 48 Epic Dream Hotels to Visit Before You Die. (What's with all the "before you die" thing? LOL)
Again, I could have stayed there longer but we had to go back up. Yes, climb back up to the cable car station, through the caves. This made me realize that I am totally out of shape! Mr. A's mom, who was celebrating her birthday that day, was way ahead of me!
I was the last to reach the cable car. Embarrassingly, I had to ask them to chill for five more minutes just so I can catch my breath.
Ain't about how fast I get there
Ain't about what's waiting on the other side
It's the climb
– Miley Cyrus
It started drizzling again when we were inside the cable car. We were freezing but no one can stop us from doing some jump shots when we reached the main station.
If ever we go back to Switzerland, I will definitely go back to this place. Definitely.
Топ-10 горных хижин и домиков в Европе: советы путешественников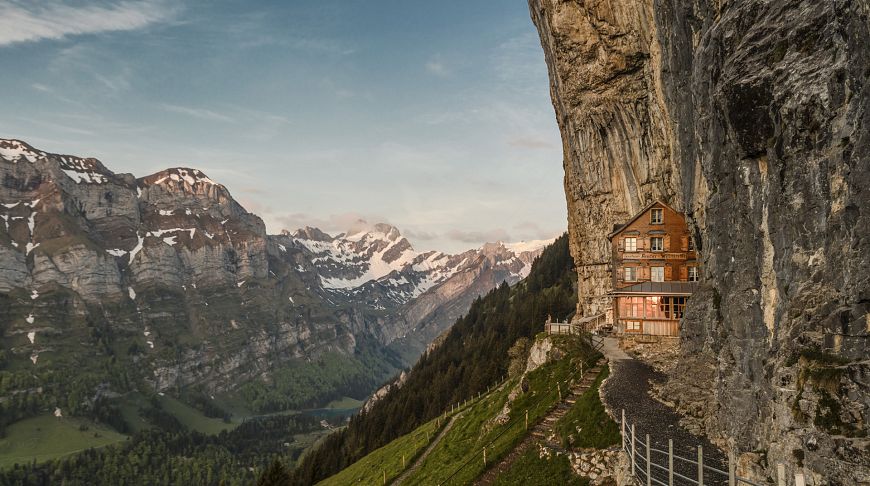 Туристы поделились своими любимыми местами для отдыха. Среди них: «Хижина Вулкан» в Исландии, горные убежища и отели, воздвигнутые среди скал
Volcano Huts, Исландия
30-километровая тропа Fimmvörðuháls приведет вас из полей Skógar через водпады и мимо вулкана Eyjafjallajökull. Путь может показаться утомительным, особенно если идти придется по снегу, который может задержаться до конца июня. Однако горная хижина Baldursskali — это отличное место, чтобы отдохнуть во время путешествия в долину Thórsmörk. Гостевые дома Volcano Huts находятся в уединенных местах, где помимо вас будут только смотритель, его собака и некоторые такие же отважные туристы-походники. Если вы идете по популярному туристическому маршруту Laugavegurinn, советуем забронировать места для ночлека через Исландскую туристическую ассоциацию . Стоимость ночевки — £34.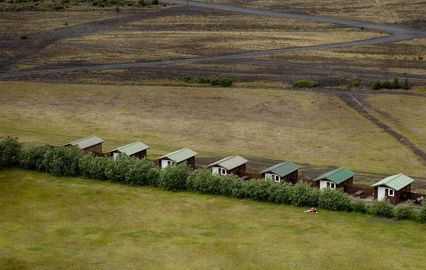 Фото: tury.ru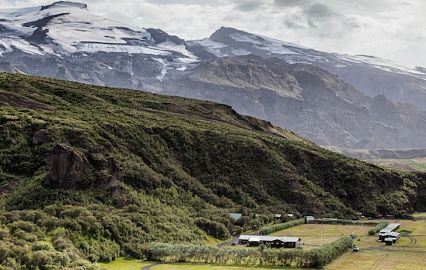 Фото: volcanohuts.com 2
L'Alivi, Корсика
L'Alivi — это пристанище для туристов, которые идут по корсиканскому маршруту Mare e Monti. Гостевой дом находится в маленькой деревушке Serriera в Южной Корсике. В этом сельском каменном здании путешественник найдет удобную кровать и вкусную еду: травяные пироги, лазанью, местный сыр, домашнее варенье из инжира. Завтраки здесь особенно сытные. Предоставляются также упакованные обеды от €7. Стоимость ночлега в общей комнате — от €18, доступны одноместные и двуместные номера.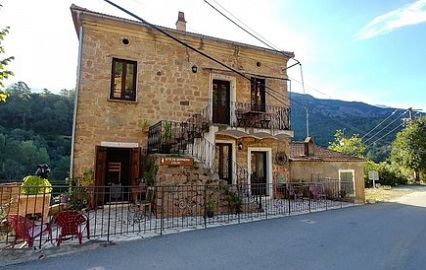 Фото: tripadvisor.com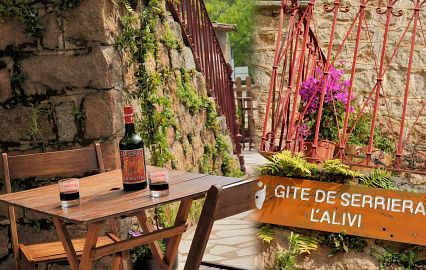 Фото: facebook.com/aliviserriera 3
Astraka Refuge, Греция
Приют Astraka предлагает туристам возможность отдохнуть на высоте две тысячи метров в горах на севере Греции. Заведение открыто с мая по октябрь. Условия довольно скромные: общие спальни, холодный душ. За отдtльную плату можно заказать питание. Здесь вы сможете насладиться красотой прекрасного озера Dragon, к которому ведет хорошо размеченный маршрут, посетить ущелье Vikos и полюбоваться великолепием горы Gamila высотой 2497 метров. К приюту Astraka ведет тропа из деревни Mikro Papigko. Стоимость ночлега — €13.
Polish Mountain Shelter, Польша
Среди кристально-чистых озер и вершин в Татрах таится приют под названием Polish Mountain Shelter (Dolinie Pięciu Stawów Polskich). Он находится на территории национального парка, в местечке Bukowina, добраться сюда можно только пешком. Это идеальное место для тихого и спокойного отдыха. Меню здесь приятно порадует традиционными польскими блюдами. Здесь очень комфортно и интересно гулять по ближайшим горам. Непременно стоит сходить к водопаду Siklawa. Стоимость ночлега — £7.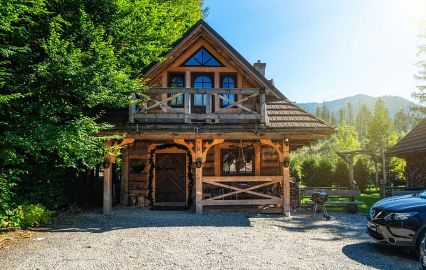 Фото: booking.com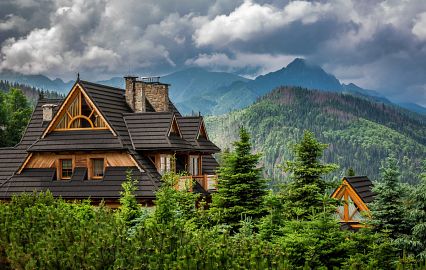 Фото: cloudfront.net 5
Casa Vita B&B, Италия
Это прекрасное сельское место расположено на старинной паломнической дороге Via Francigena, маршрут которой пролегает из Кентербери в Рим. Владельцами Casa Vita B&B являются археолог Карло и его жена Катерина. Они в любой момент готовы снабдить туристов картами, провести экскурсию и накормить вкусной едой. Стоимость двуместного номера — €85.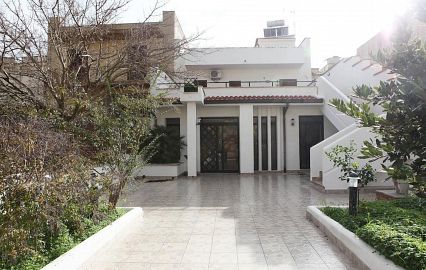 Фото: ostrovok.ru
Фото: ostrovok.ru 6
Camping Isabena, Французские Пиренеи
После долгого похода в Пиренеях вы сможете остановиться в лагере на окраине небольшого городка под названием La Puebla de Roda. Управленцы этого места — дружелюбная и гостеприимная немецко-испанская семья. Camping Isabena окружен прекрасными горными пейзажами. Постояльцы смогут увидеть удивительные находки эпохи палеоцена и эоцена. А также здесь проложены маршруты к озерам редкой красоты и в сосдение уютные деревушки. Стоимость ночлега — от €11.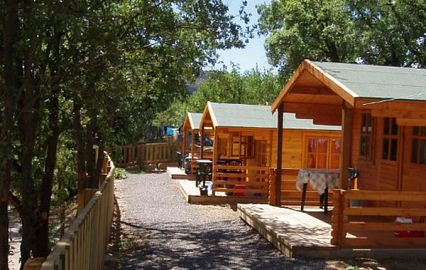 Фото: vayacamping.net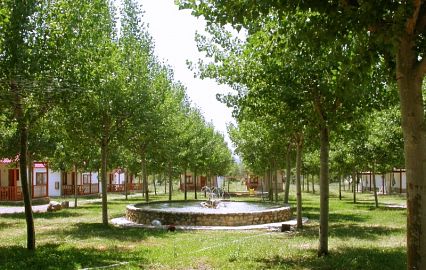 Фото: campingsaragon.com
Berggasthaus Aescher, Швейцария
Необычный тематический маршрут Appenzell Whisky Trek приведет вас к этой удивительной гостинице, которая находится в сравнительно малопосещаемой части восточной Швейцарии. Внутри гостевого дома Berggasthaus Aescher туристов ждут общие спальни, но довольно просторные и уютные. По утрам готовится скромный завтрак. Стоимость ночлега — £30 (B&B).
Фото: lifeglobe.net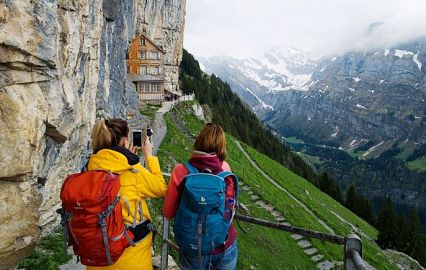 Фото: lifeglobe.net 8
Rifugio Selleries, Италия
Блюда из продуктов местного приготовления, а также домашние вина делают эту хижину идеальной остановкой в рамках шестидневного тура по природному парку Orsiera-Rocciavré. Здесь у вас будет возможность попробовать домашний сыр, различные каши и блюда из дичи. Владельцы также изготавливают свой собственный полынный ликер. В приюте Rifugio Selleries спальня общая. Стоимость ночлега — €35 (B&B).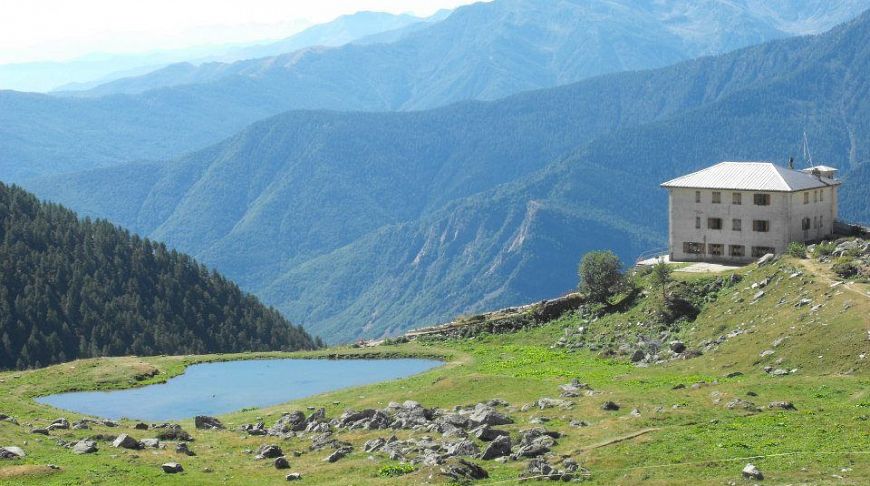 Фото: pinimg.com 9
Capanna Leìt, Швейцарские Альпы
Capanna Leìt — это домик в деревне Dalpe, расположенной в итало-говорящей части Швейцарии. Добраться сюда можно по маршруту, пролегающему среди горных озер. По пути вы увидите множество диких животных: сурков, ящериц, хищных птиц. Можно посетить также город Fusio, где есть старинная церковь, старые мельницы и гостевой дом Ostello Comunale. Стоимость ночлега — £17.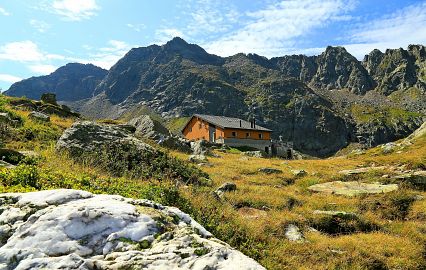 Фото: wikimedia.org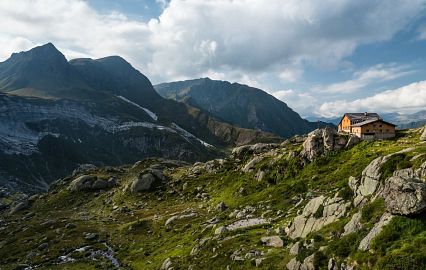 Фото: sac-cas.ch 10
Agriturismo Zertin, Италия
Via dei Monti Lariani — это 125-киломметровый маршрут по окрестностям западного берега озера Комо на высоте 1000 метров. Пешим маршрутом длиной около 2 километра вы сможете добраться до приюта Agriturismo Zertin. Внутри — простые номера и отличная еда домашнего приготовления. Стоимость ночлега — €58 (полупансион).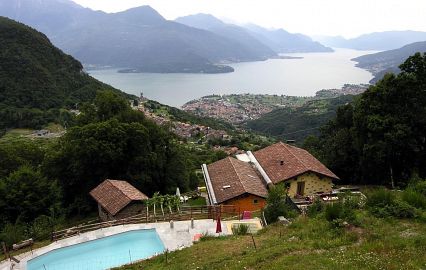 Фото: booking.com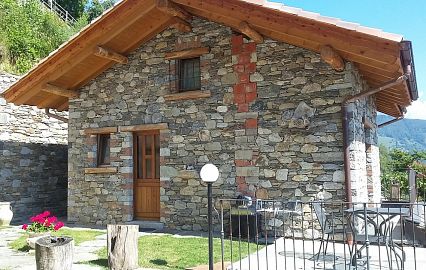 Фото: booking.com
Best Places to Visit in Switzerland: Berggasthaus Aescher-Wildkirchli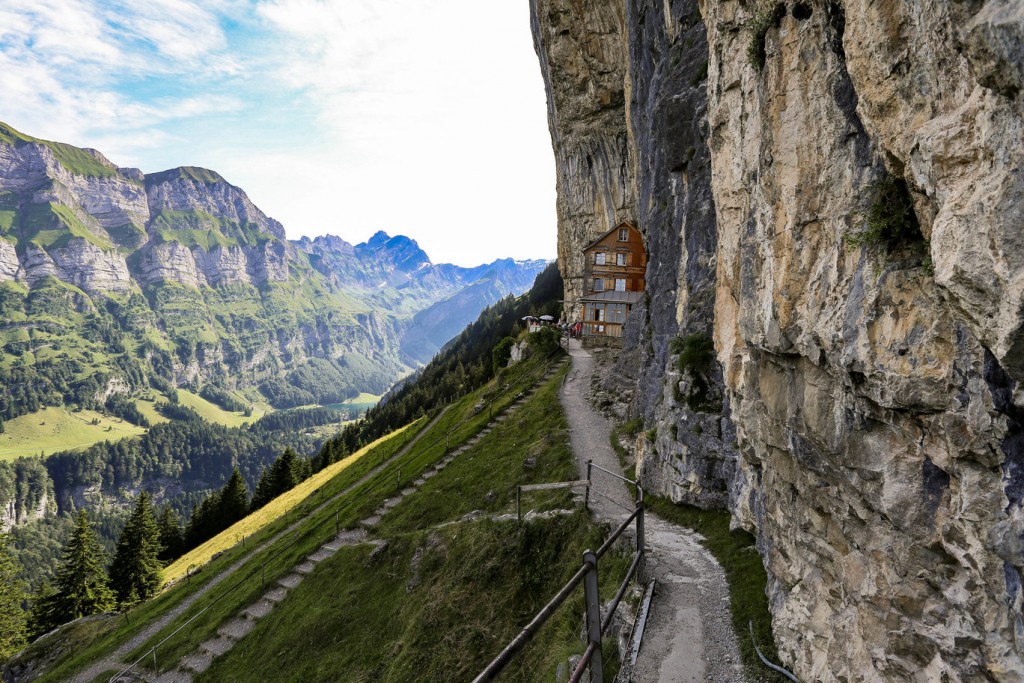 If you have ever imagined a traditional wooden cabin situated far away from everything, with nothing but nature around almost fairy tale like, this is the place that it becomes reality. Aescher-Wildkirchli is exactly what that is and much more. This beautiful guesthouse not only has the traditional Swiss charm and secludedness, but its also built on the edge of a cliff with literally nothing but nature around and spectacular views off course.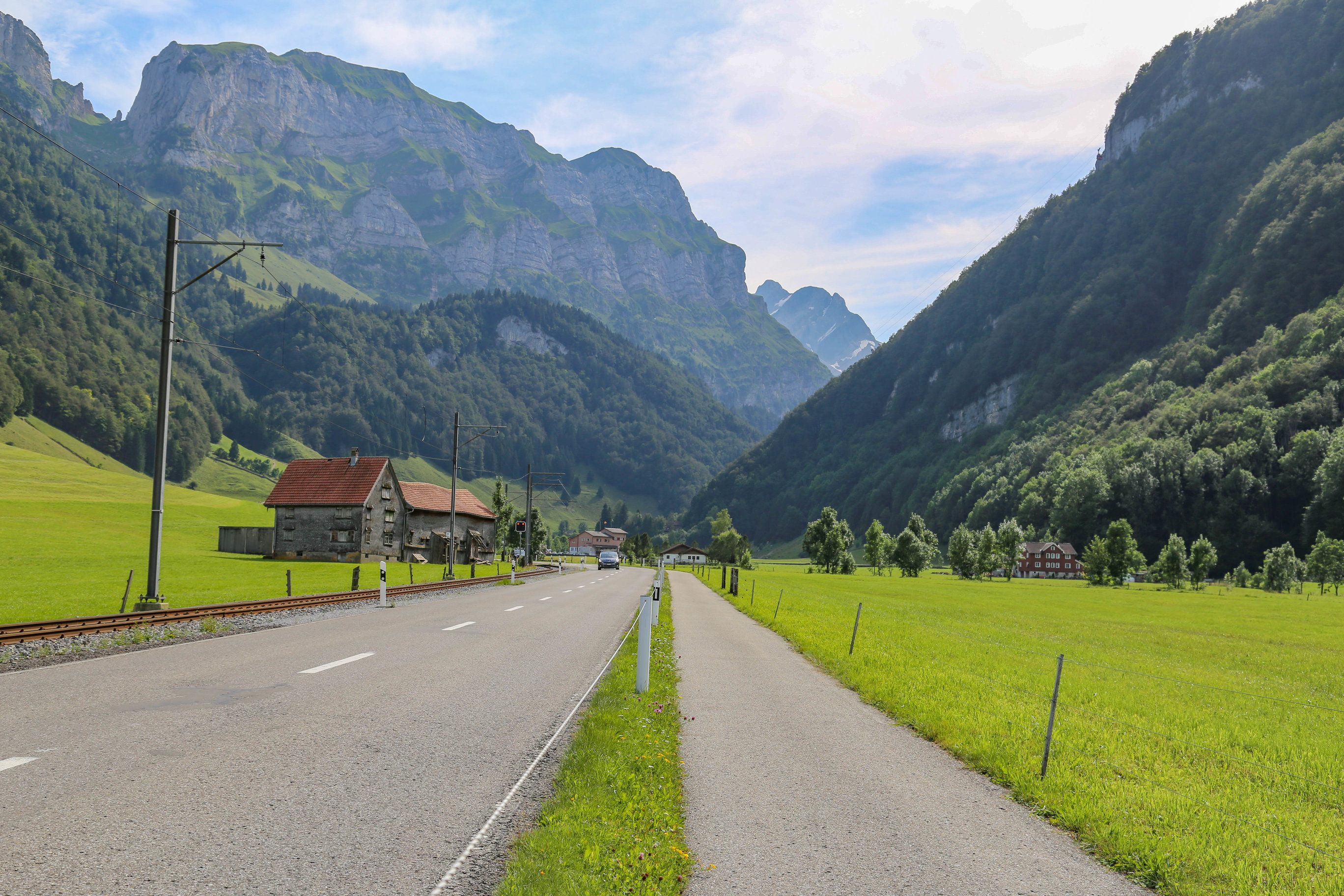 I had seen the picture of this place many times but I never imagined that I was actually going to be able to visit. Its one of those places that you look at the picture and assume that its unattainable for regular people like you and me, perhaps you need to be a pro-hiker, photographer or maybe even crew of a TV show to make it there. To be honest, this was my opinion due to lack of knowledge, about almost every place that we visited during our Switzerland trip (You can check my previous blog posts). I couldn't have been more wrong, and how happy I am that I was!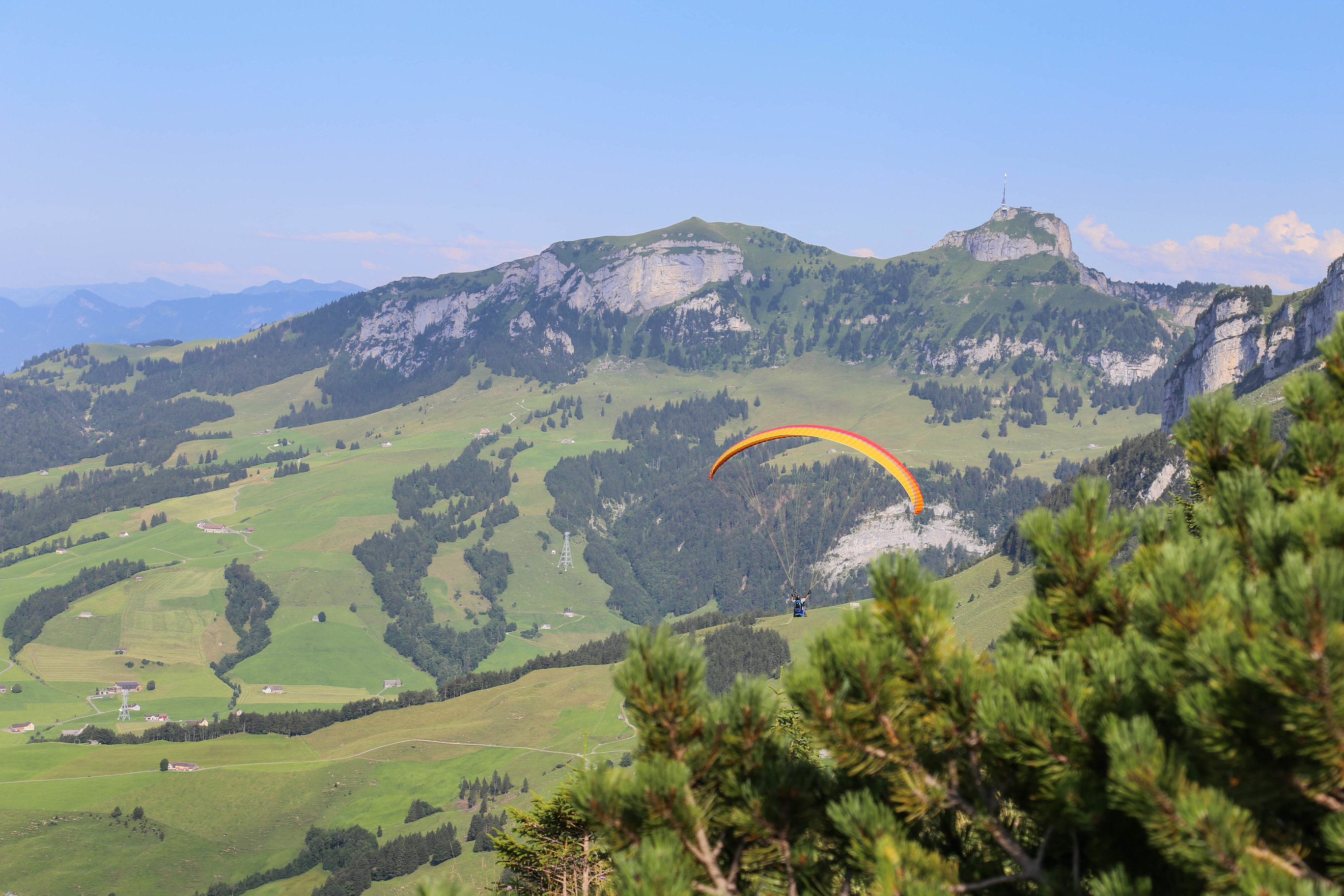 This is not your traditional hotel that you can just put the address in the GPS and drive there, yet its still quite easy so don't be disillusioned. The first step is to make the one and a half hour drive from Zurich to Wassarauen, where the cable car station is. Once you get there purchase your 27 CHF round trip ticket to Ebenalp. You get off at Ebenalp and take a moment to enjoy the view of the Appenzell Alps just like we did.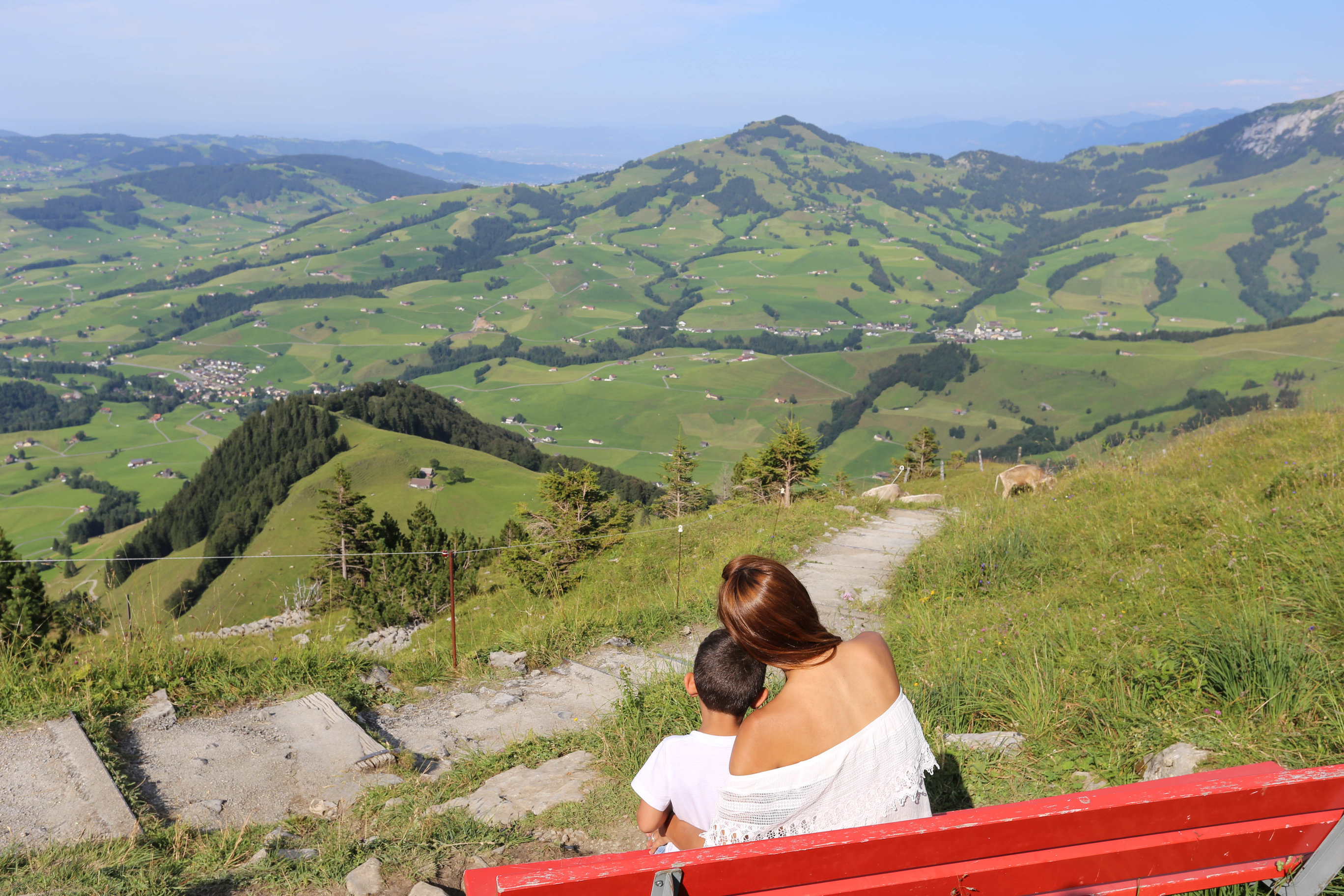 From there follow the signs for Aescher-Wildkirchli, and start your hike down. The hike down is only 15 minutes, it is safe and recommended for anyone who is in a healthy state. My little 3 year old did the hike down and up all by himself. Admittedly, the hike up he complained for the last minute or so when we got to the steps, but he managed.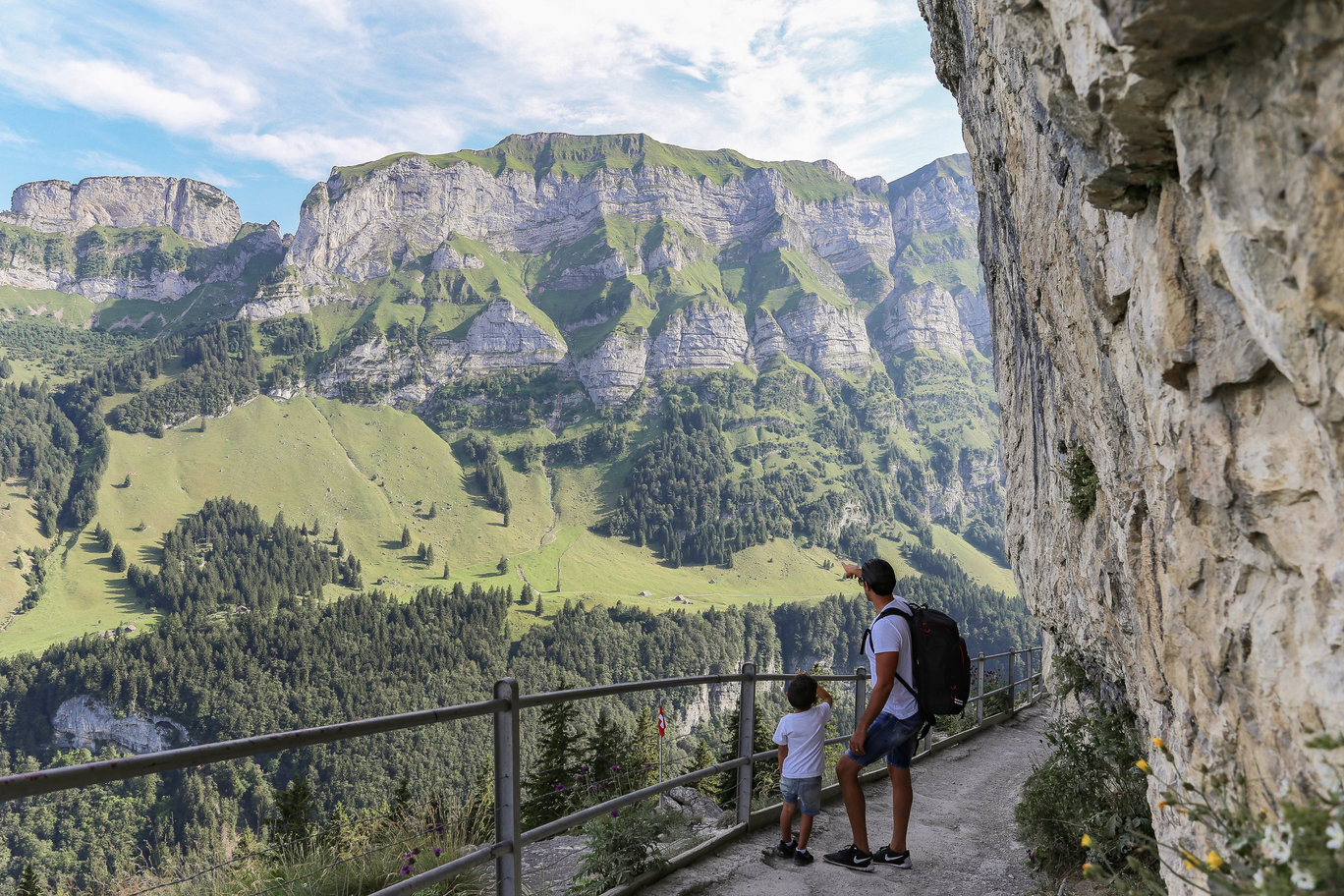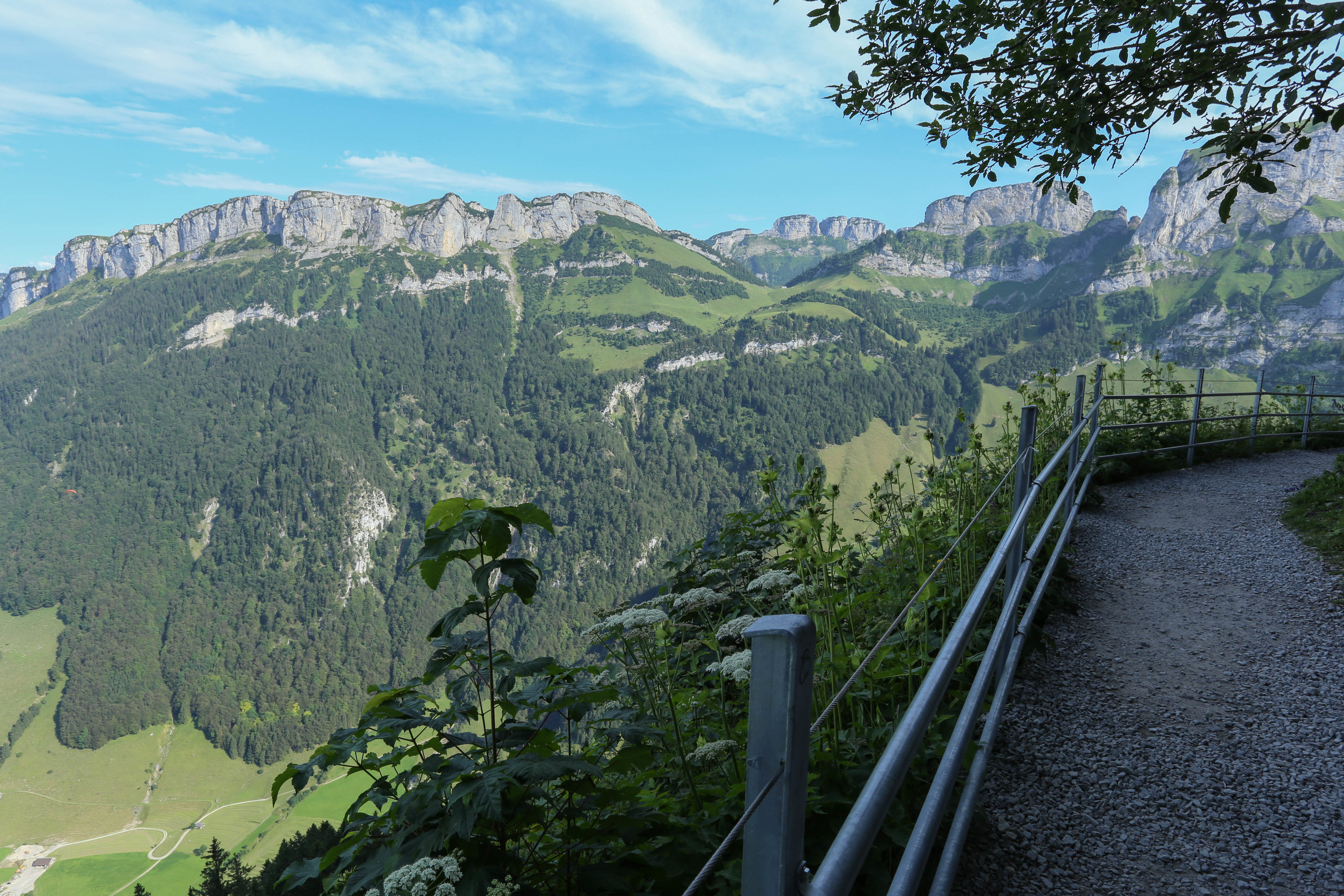 Half way through the hike you have to pass under a cave which can be a little dark but its very short so you wont get scarred. My little one was a little scared in the beginning but nothing that couldn't be fixed by just turning on my iPhone flashlight. Once you get out of the cave you will pass the small church, make a turn and you are treated with this almost surreal like view with a small cabin tucked on the right side of the cliff.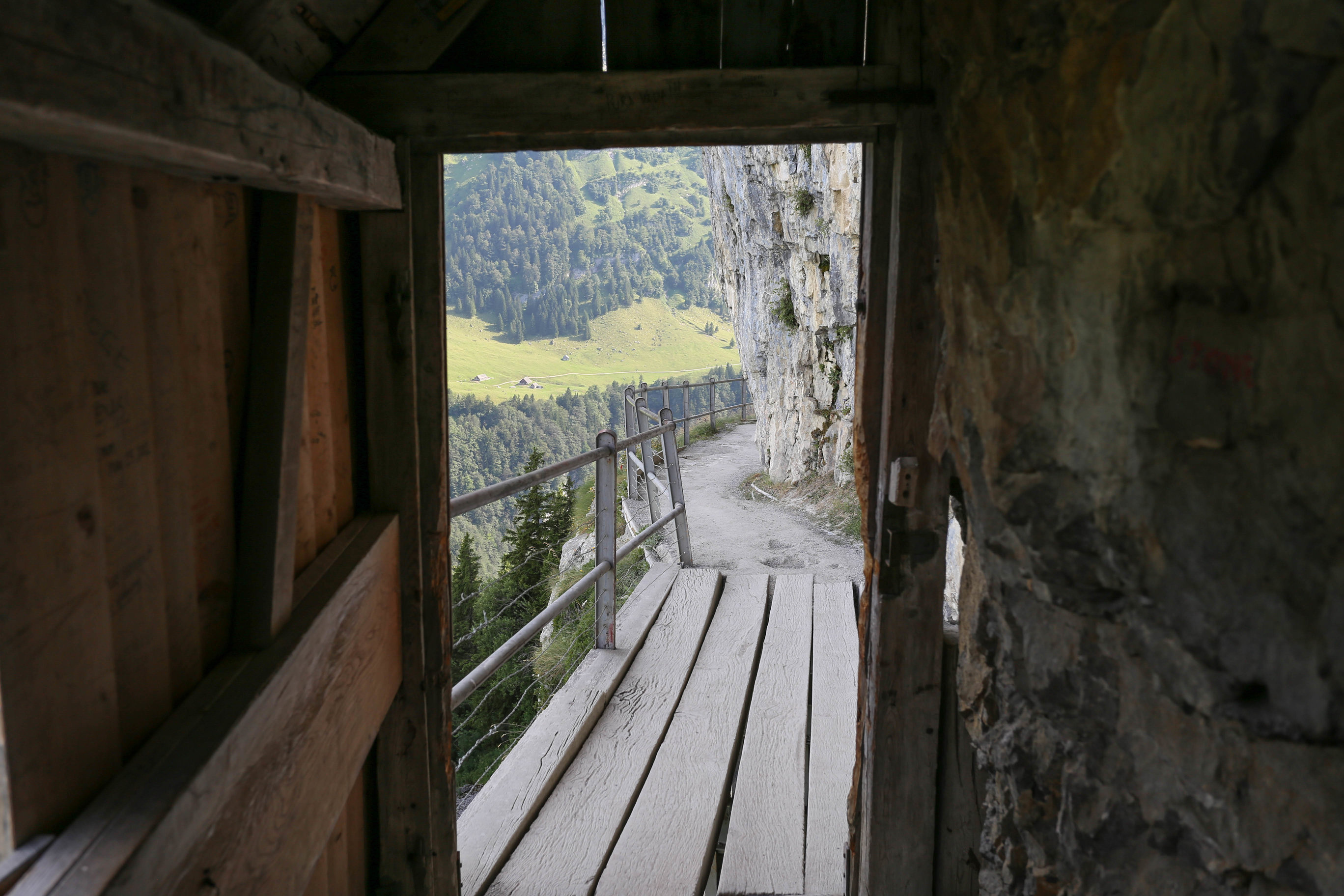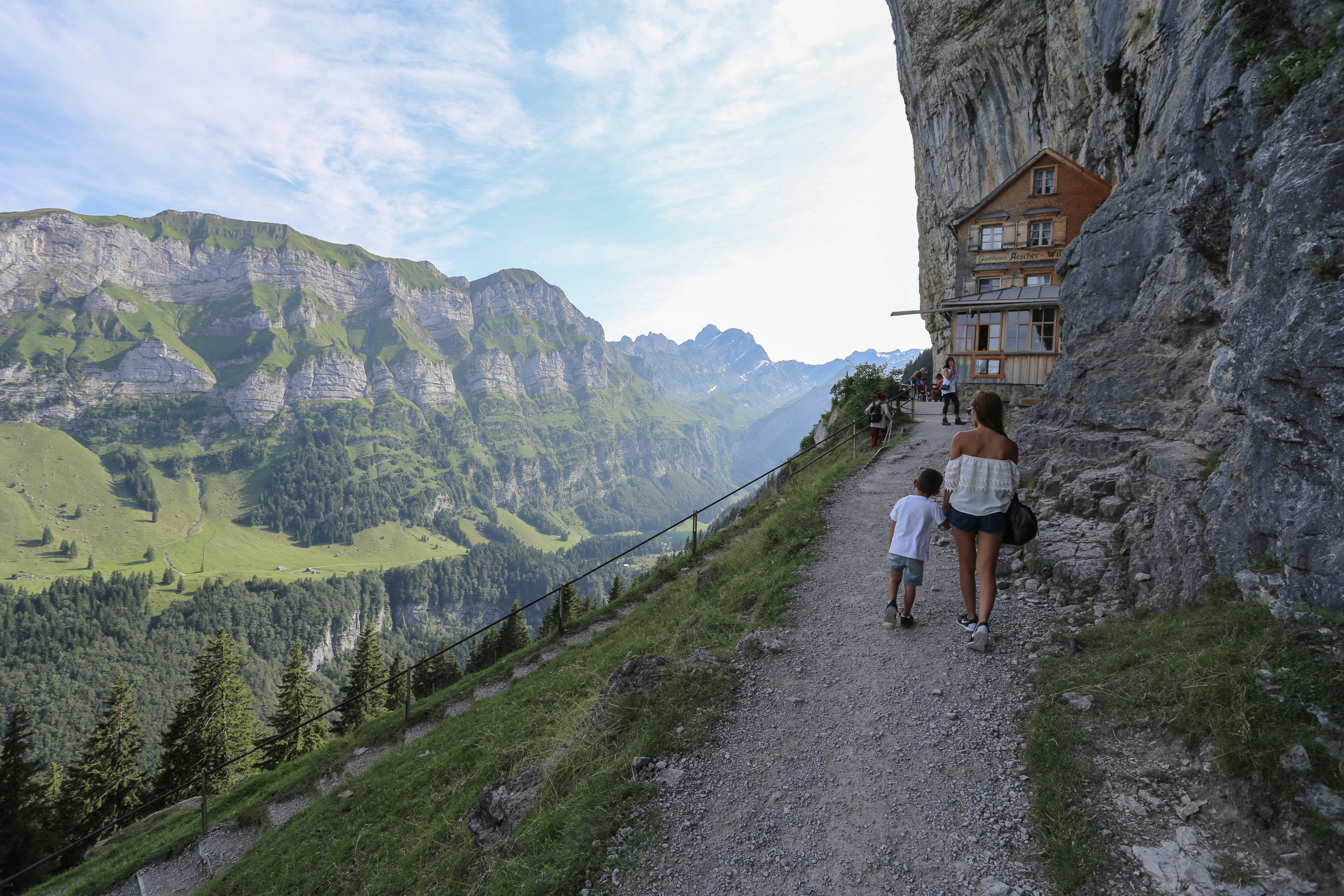 Believe it or not Aescher-Wildkirchli guest house is 170 years old! How did they manage to built it that long ago in this location I have no clue but it certainly is very impressive! The cabin itself is very small; the restaurant itself can only host 40 people so you can get a feel of how small and secluded this place is. We visited in August during peak season and it wasn't crowded or load or anything like that. We had to wait approximately 5 min for a table but we were busy admiring the view and discovering how much this place had to offer!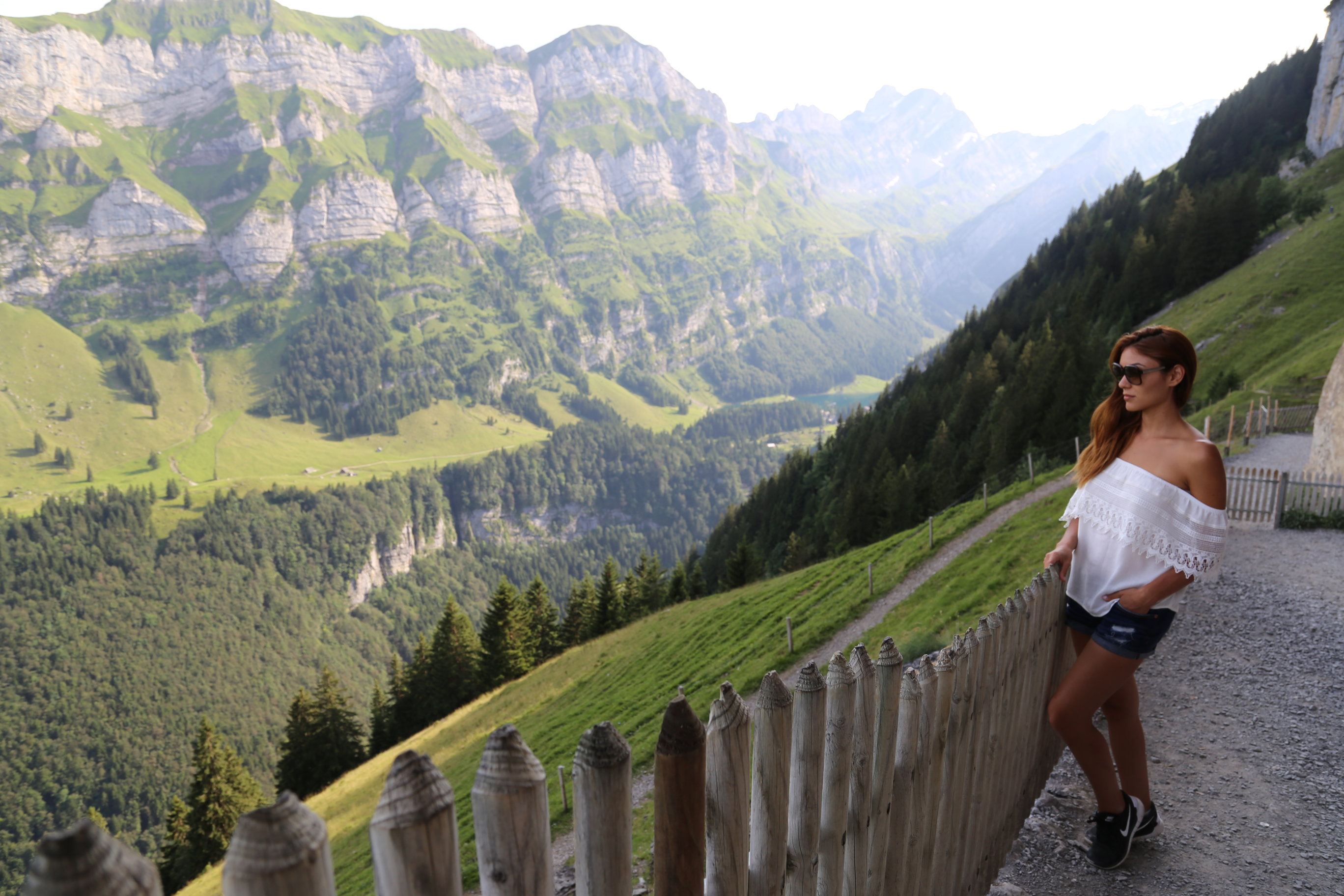 When we decided to drive there, we never imagined there was a lot of things to do here, such as hiking down to the lake. From above it looked incredible, but we were told it is one of the most beautiful lakes in the area. Due to time restraint, we missed it. Unfortunately, we made the mistake of being too spontaneous and visiting all these spectacular places in Switzerland without doing much research.
After having a small snack, admiring the views while my little one played with the toy house that they had for kids, we had to catch to begin our hike up before the last cable car of the day left. We didn't spend more than 2 hours of there, so it was really more like a teaser rather than anything else. The good thing is now we now that next time, this place at least deserves the whole day for itself or if you find availability in the cabin, spend the night there.
Berggasthaus Dammagletscher Мини-отель
Во всех номерах установлен письменный стол.
Гостевой дом Berggasthaus Dammathech расположен в коммуне Гёшенен, в 12 км от тоннеля Готард-роуд. К услугам гостей экскурсионное бюро, номера для некурящих, ресторан, бесплатный Wi-Fi на всей территории и терраса. К услугам гостей семейные номера и детская игровая площадка.
Гости могут заняться различными видами активного отдыха в окрестностях Гёшенена, в том числе пешим туризмом.
По утрам в отеле Berggasthaus Dammaglech сервируется континентальный завтрак или завтрак «шведский стол».
Расстояние от отеля Berggasthaus Dammagletscher до аэропорта Лугано составляет 78 км.
Цена номера от 5 911 .
Телефон: +41 41 886 88 68
Адрес: Göscheneralpstrasse 60 Beim Staudamm, 6487 Гёшенен, Швейцария
Количество номеров: 7
Наличие мест
Укажите даты заезда и отъезда для бронирования Berggasthaus Dammagletscher:
Виды номеров в Berggasthaus Dammagletscher
Двухместный номер с 1 кроватью и собственной ванной комнатой
Ванная комната в номере Вид на горы
Размер номера 24 м²
Номер площадью 24 кв. м.
Wi-Fi предоставляется на территории всего отеля бесплатно.
Кровати: 1 большая двуспальная кровать (ширина 151-180 см)
Услуги и удобства: Вид из окна, Вид на горы, Рабочий стол, Отопление, Ванная комната в номере, Услуга «звонок-будильник», Белье, Полотенца, Вешалка для одежды, Фен, Лестница для доступа к верхним этажам, Ковровое покрытие, Душ, Туалетная бумага, Туалет, Шкаф или гардероб, Розетка около кровати, Ванна или душ
Бесплатная общественная парковка на месте.
Двухместный номер с 2 отдельными кроватями и душем
Ванная комната в номере Вид на горы
Размер номера 18 м²
Wi-Fi предоставляется на территории всего отеля бесплатно.
Кровати: 2 односпальные кровати (ширина 90-130 см)
Услуги и удобства: Шкаф или гардероб, Розетка около кровати, Ванна или душ, Туалет, Туалетная бумага, Душ, Фен, Лестница для доступа к верхним этажам, Ковровое покрытие, Услуга «звонок-будильник», Белье, Полотенца, Вешалка для одежды, Ванная комната в номере, Вид из окна, Отопление, Вид на горы, Рабочий стол
Бесплатная общественная парковка на месте.
Трехместный номер с душем
Ванная комната в номере Вид на горы
Размер номера 24 м²
Трехместный номер с видом на горы.
Wi-Fi предоставляется на территории всего отеля бесплатно.
Кровати: 3 односпальные кровати (ширина 90-130 см)
Услуги и удобства: Вешалка для одежды, Полотенца, Белье, Услуга «звонок-будильник», Ковровое покрытие, Лестница для доступа к верхним этажам, Фен, Вид на горы, Отопление, Рабочий стол, Вид из окна, Ванная комната в номере, Туалет, Ванна или душ, Розетка около кровати, Шкаф или гардероб, Душ, Туалетная бумага
Бесплатная общественная парковка на месте.
Четырехместный номер с общей ванной комнатой
Размер номера 18 м²
Wi-Fi предоставляется на территории всего отеля бесплатно.
Кровати: 2 односпальные кровати (ширина 90-130 см), 1 двухъярусная кровать (размер варьируется)
Услуги и удобства: Общий туалет, Рабочий стол, Отопление, Фен, Лестница для доступа к верхним этажам, Ковровое покрытие, Услуга «звонок-будильник», Белье, Полотенца, Вешалка для одежды, Туалетная бумага, Шкаф или гардероб, Розетка около кровати, Общая ванная комната